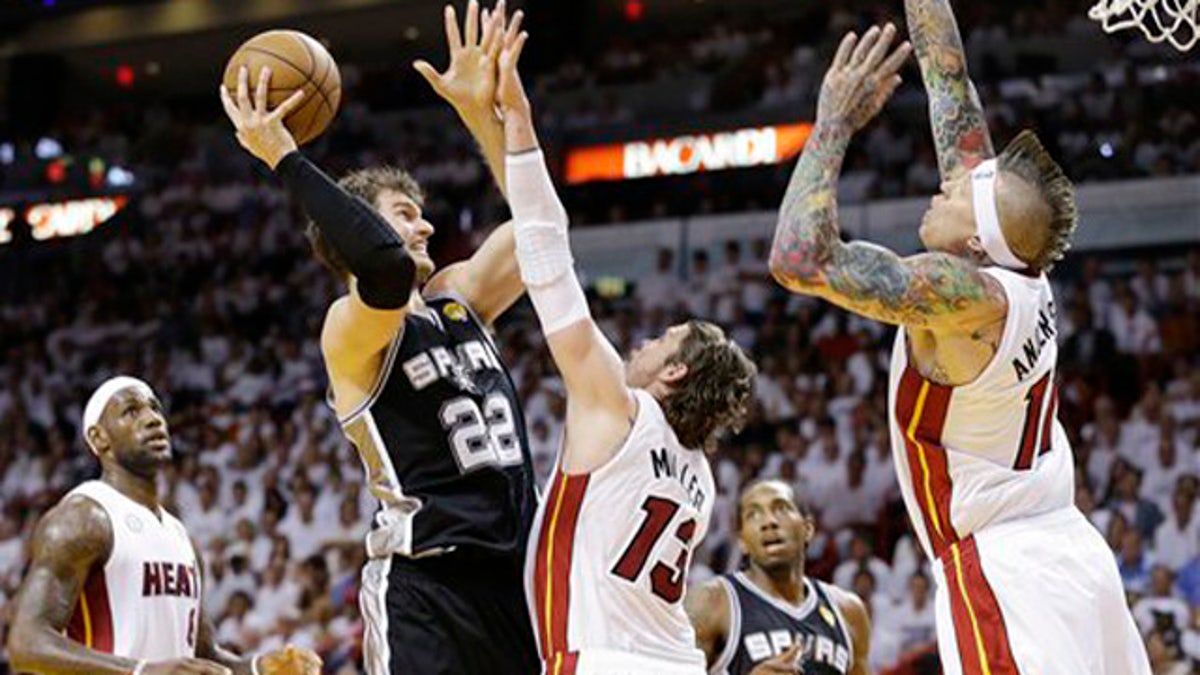 LeBron James needed almost 12 full minutes before scoring his first points. He missed 10 of his first 13 shots. He wore a wrap on his knee and put on a display that won't be remembered for offensive brilliance.
But what he did Sunday night in Game 2 of the NBA Finals was unforgettable.
At least, what he did in a 38-second span of Game 2 was unforgettable.
A sensational block on a dunk try. An assist to set up a 3-pointer. A deflection, a runout and then a slam of his own, twisting on the rim and waving his arms for good measure as the Miami Heat celebrated. The best player in the game saved his best for last, sealing what became a blowout win for the Heat, 103-84 over the San Antonio Spurs to knot the NBA Finals at a game apiece.
Game 3 is Tuesday night in San Antonio.
"LeBron couldn't get into a rhythm early on and other guys stepped up," Heat coach Erik Spoelstra said. "He showed great poise and trust in not getting caught up in feeling like he had to make `the play' or score, but rather he would facilitate or let other guys make plays. And that's what they did."
When the Heat lose games, they typically respond by blowing out their next opponent, and this one was no different. Contributions came from everywhere -- Mario Chalmers scored 19 points, Ray Allen added 13, Chris Bosh had 12 points and 10 rebounds and Dwyane Wade finished with 10 points.
The Heat were balanced, efficient and rode a huge 19-2 edge in points off turnovers. And for three quarters, James was far from his usually offensively dominant self, yet controlled play in other ways.
"He played solid basketball," Spurs coach Gregg Popovich said. "He played good D. He took what was available, read the defense, involved his teammates. He did a fine job."
In the fourth quarter, he just found another level.
This game's signature sequence was turned in by James starting with about 8 1/2 minutes left in the fourth quarter. Tiago Splitter took a pass from Tony Parker and tried to dunk on the league's reigning MVP, which was the mistake James needed someone to make.
He blocked Splitter's dunk at the rim, standing behind the play as the building started to roar.
James said he had one thought: "Just make a play."
He wound up doing far more than that, of course.
"A lot of players wouldn't go for that," Spoelstra said. "The risk-reward, they weigh that right away and the possibility of getting dunked on and being on highlight films. He's been on that highlight film both ways. It takes great courage to go up and make one of those plays."
When James rejoined the play, he found Allen for a 3-pointer that gave the Heat a 22-point lead. On the next possession, he got his hand on the ball for a deflection that led to a turnover, and Mike Miller rewarded him with an over-the-head pass down the floor.
James was all alone, went up for a slam as he faced the Heat bench, then spun around before landing in the other direction. The Spurs emptied their bench not long afterward.
"LeBron is unbelievable," Parker said.