Leading Chechen rebel calls for attacks on 2014 Winter Games in Sochi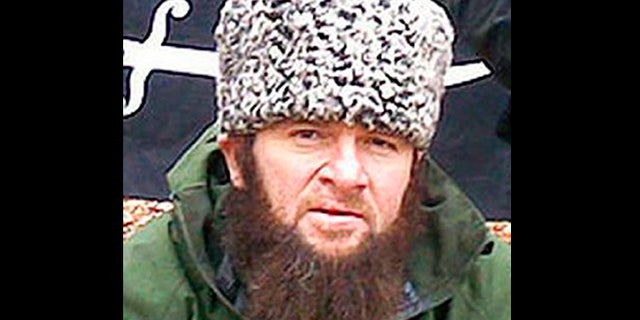 MOSCOW – A leading Chechen rebel on Wednesday called on Islamist militants in Russia's North Caucasus to disrupt the upcoming Winter Games in the Black Sea resort of Sochi, reversing his previous appeal not to target civilians in the region.
Sochi is hosting the Winter Olympics in February in what has been described as President Vladimir Putin's pet project. The overall bill for the games stands at $51 billion, making them by far the most expensive Olympics in history.
Doku Umarov, a widely known Chechen rebel leader, urged his men to "do their utmost to derail" the games which he described as "satanic dances on the bones of our ancestors."
"We have the obligation to use all means to prevent this," he said in a video published on a rebel website on Wednesday.
Umarov last year urged his men to avoid hitting civilian targets because Russians in Moscow were taking to the streets en masse to protest against Putin.
Analysts have said the Islamic insurgency raging across the North Caucasus mountains that tower over Sochi is a daunting threat to the games — although rebels have not attacked Sochi so far.
Dagestan, which lies about 300 miles east of Sochi, has become the center of the insurgency that spread across the North Caucasus region after two separatist wars in the 1990s in neighboring Chechnya. Rebels seeking to carve out a caliphate, or Islamic state, have targeted police and other officials in near-daily shootings and bombings. Umarov is believed to be their most influential leader at the moment.
Tamerlan Tsarnaev, the elder of the two ethnic Chechen brothers from Russia who are accused of staging the Boston bombings, spent six months last year in Dagestan.
The Sochi 2014 Organizing Committee said in an emailed comment that ensuring security at the games is "the responsibility of the state" and will be its priority.
"We are confident that the games will be safe and comfortable for all as guaranteed by the Russian state," the committee said.
Russia's National Anti-Terrorism Committee said in a statement on Wednesday that they are working to eliminate threats at all international sporting events in the country including the Olympics. Officials said that they aim "to identify and avert various threats, including those of terrorism".
Officials at the International Olympic Committee voiced confidence in the Russian security precautions.
"We have no doubt that the Russians will be up to the task and we continue to have full confidence in them," IOC spokesman Mark Adams told The Associated Press.