Lane Kiffin feeling 'really good' about FAU after spring game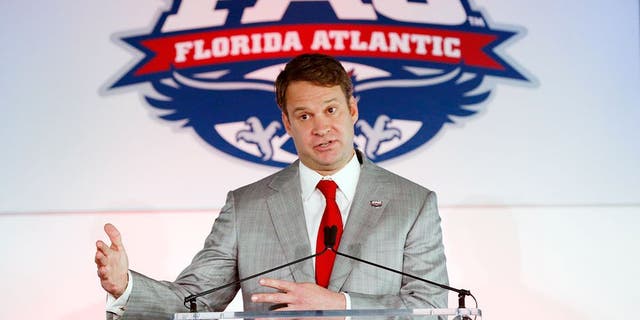 NEWYou can now listen to Fox News articles!
BOCA RATON, Fla. (AP) -- Lane Kiffin had his trademark windbreaker on for Florida Atlantic's spring game, replete with the omnipresent visor underneath the headset.
The look for FAU's coach hasn't changed.
Just about everything else has, of course.
He's 750 miles from Alabama now, head coach at a school coming off three consecutive 3-9 seasons instead of being with a Crimson Tide program that will almost certainly find its way into the national-title conversation again this year. And while Alabama was having its spring game before 74,326 people Saturday afternoon, Kiffin's Owls played simultaneously before barely anyone.
None of that mattered to Kiffin. His first spring with the Owls is over, and he called it a success -- plus had plenty of light-hearted perspective on the crowd, or lack thereof.
"There's the good with the bad," Kiffin said. "Yeah, the stadium's not going to be filled 30 minutes before kickoff no matter what, whether you're the Dolphins or whether you're the L.A. Lakers. The good part of that is you're in a city where there's a lot to do, so there's a lot of things going on … a great place to live. Now we've got to start winning some games, so that we get more people to come to the games."
The final score, for the record, was Defense 62, Offense 33. That seemed irrelevant.
This spring was about Kiffin getting a real feel for what's realistic for FAU in 2017, and installing a system that he expects will give the Owls a chance to get better right away.
"I feel really good about it," Kiffin said.
Kiffin is a national brand at a place that struggles to even get local attention. That would in part explain the dichotomy between having empty stands -- there were no more than 2,000 people inside the stadium -- and school officials being thrilled that it was the largest spring game crowd anyone at FAU could remember.
Progress comes slowly sometimes.
"Like anything, we're just looking to get better every day as an organization, as a football program, as an athletic department," FAU athletic director Pat Chun said. "So anything that shows improvement, we'll take. It's another healthy sign. I'd rather have this than the opposite, where only a couple hundred people were here. There's definitely more eyeballs on FAU football than there's ever been."
People in Boca Raton might not be watching yet.
But people around the SEC, and probably plenty of other places in the country, clamor for all things Kiffin.
FAU's opener was moved up a day to Sept. 1 at ESPN's request, so Kiffin's debut with the Owls will be shown nationally in prime time on a Friday night. And Showtime expressed interest in chronicling FAU this coming season, as it did with Florida State last fall.
"Bringing in a guy like Coach Kiffin, who has the name in the sport, creates excitement around here that we really haven't had," quarterback Jason Driskel said. "I think it's exciting for everybody."
Not everything has gone smoothly to start Kiffin's tenure.
Eyebrows raised when he hired Kendal Briles -- the former offensive coordinator at Baylor, a program rocked by sexual assault allegations -- to run his offense at FAU. He was trolled by everyone from random tweeters to a Tennessee state agency after making a notoriously awful promotional video for FAU, which Kiffin insists was intentional to get people talking. And anytime he and Alabama coach Nick Saban speak about one another, schism talk begins again.
He has seemed undeterred by it all.
"Correct. He is undeterred by it. That is a great way to categorize it," Chun said. "He doesn't pay attention, really doesn't pay attention to what social media says about him or things that are going on. He has a belief system that he's firm with. There is a Kiffin Effect, there's no ifs, ands or buts about it. It's been nice to see."
Kiffin spent the game on the field, standing behind the quarterbacks and switching his headset between what the defensive and offensive coaches were saying.
He was asked what it was like to not call plays anymore.
"Boring," Kiffin said. "I would have left too, to go to the beach."