LaMelo Ball, younger brother of UCLA star Lonzo Ball, scores 92 points vs. Los Osos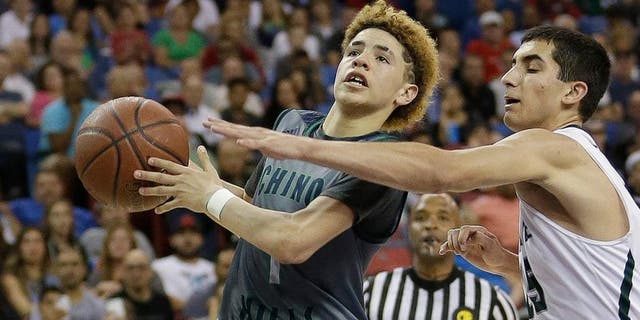 NEWYou can now listen to Fox News articles!
On Saturday of last week, Chino Hills High School's 60-game win streak was ended by Mouth of Wilson (Va.) Oak Hill. Little did we know the chain reaction this would cause.
Just three days after the devastating loss, sophomore LaMelo Ball (the younger brother of UCLA star Lonzo Ball) unearthed an unfathomable, historic performance -- scoring 92 ... that is not a typo ... NINETY-TWO POINTS vs. Los Osos in a 146-123 victory. The highlights can be viewed below via BallIsLife:
Check out the ridiculous box score for yourself:
A couple notes:
LaMelo's brother, LiAngelo, did not play.
Poor Eli Scott recorded a 29 point, 17 rebound, 14 assist triple-double and NO-ONE is going to talk about it because of Lamelo's insane scoring display.
Per a report via Sports Illustrated, LaMelo Ball committed to play for UCLA at the age of 13 -- and barring any drastic changes, will continue the legacies of his brother Lonzo and LiAngelo at the prestigious basketball university.
Tonight, however, he started his own.