Kyle Larson, crew chief Chad Johnston reflect on Michigan triumph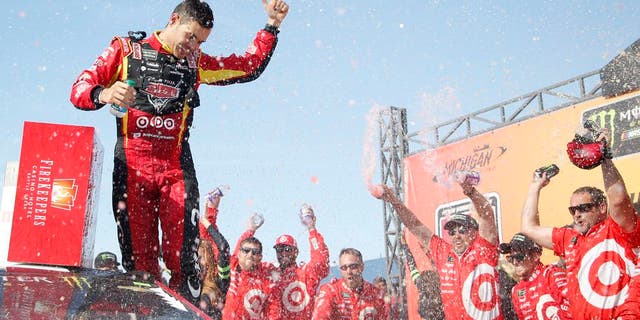 NEWYou can now listen to Fox News articles!
Kyle Larson scored his second win of the season by holding off several cars on late restarts at Michigan International Speedway.
Larson battled throughout the race with Martin Truex Jr. and Kyle Busch and lost both stages to Truex.
The 78 was pretty much the class of the field, No. 42 crew chief Chad Johnston said. We felt that on the short run we were decent if we could get checked out. Martin (Truex Jr.) seemed to be able to decide when to go and drive right by us and pull away.
In the late portion of the race, Larson drove through the field, passing Chase Elliott and Ryan Blaney, then put his sights on the No. 18 of Busch in the closing laps.
I knew Chase (Elliott) was going to race me hard, Larson said. A lot of people dont like racing hard in this series but us young guys dont mind it.
Before late cautions came out, the plan for Larson was to save as much fuel as possible in hopes that the No. 18 would run out of gas while leading.
That strategy wasnt needed when a debris caution came out. Larson started second to Busch on a restart with 15 laps to go and received a strong push from Blaney to get in front of Busch and into the lead.
Another caution came out heading onto the backstretch when Kevin Harvick, Blaney, and Daniel Surez got bunched up, eventually sending Surez into Danica Patrick.
Larson got a jump on the final restart and got to celebrate Fathers Day in Victory Lane with his son, Owen, and father, Mike.