Kyle Busch dominates in another XFINITY Series win at Phoenix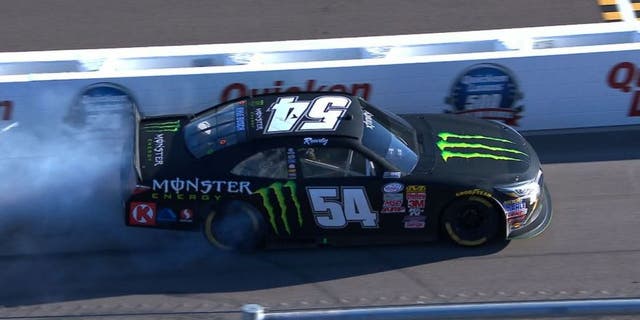 No one had anything for Kyle Busch Saturday in the DAV 200 Honoring America's Veterans XFINITY Series race at Phoenix International Raceway.
Busch won going away by more than four seconds over second-place finisher Brad Keselowski after leading 190 laps of 200 laps.
Erik Jones finished third, followed by Daniel Suarez, Ty Dillon, Regan Smith and Chase Elliott. Series points leader Chris Buescher finished 12th, but had his points lead trimmed by the likes of Dillon, Smith and Elliott, who still harbor hopes of catching him and stealing away the championship in the season finale next weekend at Homestead-Miami Speedway.
With only next Saturday's race at Homestead remaining, Buescher is 18 points ahead of defending series champion Elliott, 22 in front of Ty Dillon, and 24 ahead of Smith. Dillon was fifth in the race, Smith sixth, and Elliott seventh.
At Phoenix, though, Busch put on a display of domination in a race that went green for the last 81 laps. His only small bit of consternation came when he asked crew chief Chris Gayle if his No. 54 Toyota had enough fuel to make it to the finish. Gayle responded that it did, and then said afterward: "We were fine. There was no reason to push it. It's nice to have a car like that."
It was the 76th career win for Busch in the series, extending his own record. Busch, who started from the pole, continues to make up for lost time after missing the first part of the season because of injuries sustained in the season-opening XFINITY race at Daytona.
The injuries caused him to miss the spring XFINITY race at Phoenix, where he now has won eight times in the series during his career.
"We just continue to try to rack up wins, I guess," Busch said. "We missed the race here earlier in the year and had to keep our record alive of getting a win here at Phoenix."