Knicks' JR Smith suspended a game for hitting Wizards' Rice Jr. in groin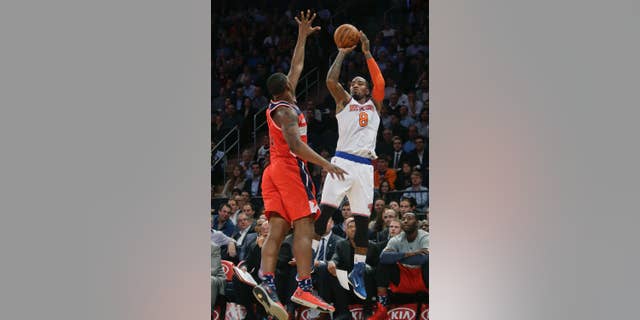 NEW YORK – New York Knicks guard J.R. Smith has been suspended one game by the NBA for hitting Washington's Glen Rice Jr. in the groin.
Smith will miss the Knicks' game in Detroit on Wednesday night.
Smith was dribbling with his right hand when he hit Rice with his left with 5:45 remaining in the Knicks' 98-83 loss on Tuesday night.
The former Sixth Man of the Year was in trouble with the NBA multiple times last season. He began the season serving a five-game suspension for violating terms of the league's anti-drug program, then later was hit with a $25,000 fine for using hostile and inappropriate language toward the Pistons' Brandon Jennings on his Twitter account, and a $50,000 penalty for untying a player's sneakers during a game.