Kintzler, Twins thriving in tight ballgames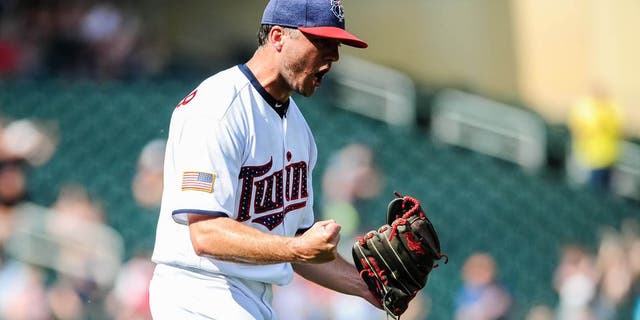 The Minnesota Twins 2-1 loss to the Angels on Wednesday night was a rare one.
Tuesday nights 5-4 win over Los Angeles? Thats more like it.
Minnesota owns Major League Baseballs second-best record in games decided by two runs or less. Minnesota is 21-11 in such games, just behind the Colorado Rockies (22-10). The Twins had won four straight two-run games before suffering the loss on Wednesday.
A big part of that has been the emergence of closer Brandon Kintzler.
The 32-year-old right-hander is second in the American League -- and third across MLB with 22 saves.
Minnesota gave the full-time closing role to Kintzler last season in June after three-time All-Star reliever Glen Perkins went on the disabled list with a shoulder injury.
Kintzler hasnt looked back.
After converting on 17 of 20 opportunities in 2016, Kintzler has picked up a save in 22 of 25 save opportunities this season. He hasnt blown a save since giving up a two-run homer to Seattle's Mike Zunino in the bottom of the ninth on June 7.
Kintzler has posted career bests in earned-run average the past two seasons for the Twins after spending his first six years in MLB with the Milwaukee Brewers.
Its well known that another Twins pitcher is having a career year. Jose Berrios has a 7-2 record with a 3.44 ERA, 65 strikeouts and only 19 walks. Last year, he walked 35 hitters, fanned just 49 and his ERA ballooned to 8.02.
Since 1913, only three pitchers have made at least 10 starts and lowered their ERA by such adramatic margin.
Berrios toes the rubber for the Twins on Thursday in the first contest of a four-game series with the Baltimore Orioles at Target Field.
NOTABLE:
-- Its been a back-and-forth battle between the Twins and Orioles the past three seasons. In 2015, Minnesota swept the series 7-0, Last season, the Orioles won five of six. So far in 2017, the Twins have a 3-0 advantage.
-- Dont fall asleep with two outs, because the Orioles score 43.4 percent of their runs with two down. That ranks third in MLB, behind the Cubs (43.8) and Dodgers (43.9).
-- Baltimore rookie Trey Mancini has 14 home runs, the most dingers hit by an Orioles first-year before the All-Star break.
-- Twins Ervin Santana and Baltimores Dylan Bundy, who Minnesota will face Thursday night, are tied for third in the AL with 12 quality starts.
-- Minnesota utility man Eduardo Escobar improved from hitting .210 in April-May to .343 in June-July, the second highest differential in the majors.
Statistics courtesy STATS