Kevin Harvick spoke with Kasey Kahne to squash Hendrick rumors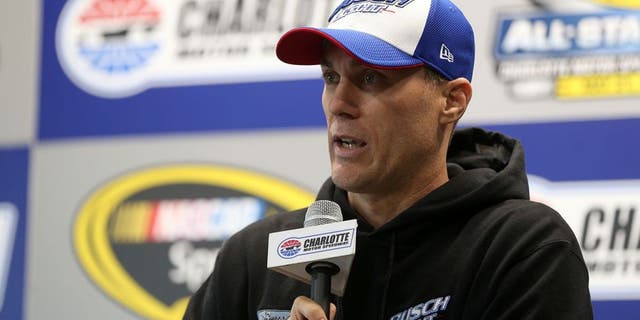 Kevin Harvick cleared the air once and for all Friday, with the 2014 NASCAR Sprint Cup Series champion categorically denying ever talking to anyone at Hendrick Motorsports about moving there next year.
Friday afternoon at Charlotte Motor Speedway, Harvick said that Stewart-Haas Racing already held a two-year option on his services for 2017-18, so there was never any chance of him moving to Hendrick or anywhere else.
Rather than exercising the existing option, Harvick said he and the team agreed together to restructure his deal to keep in the SHR fold on a long-term basis going forward.
"For me, I had an automatic two-year extension that the team held," said Harvick. "It was understood that we were going to extend this option. ... it was a mutually agreed restructure to extend the contract further, so we could extend our sponsorships and relationships we had to make them longer."
Since late February, when SHR announced it would switch to Ford in 2017, what Harvick called a "spiraling, out-of-control" rumor began that he would join Hendrick and replace Kasey Kahne.
That turned out to be absolutely and completely untrue, despite some media reports to the contrary.
In fact, Harvick said he personally spoke to Kahne, face-to-face, "two or three months ago" to assure him the rumors were untrue.
"It got so out of control, I actually went to Kasey Kahne and said, 'Look, man, here's what's going on.' And I told, I said, 'There's not been one person that's called me from your organization. I want you to have the trust in your team. I want you to believe in your team and I want you to keep working on the things you're working on. Here's where it's at. Here's what I'm doing. Here's what I see, here's how it's going to go .'"
Kahne went on Twitter to thank Harvick.