Kevin Durant explains why the Warriors are no 'super-team'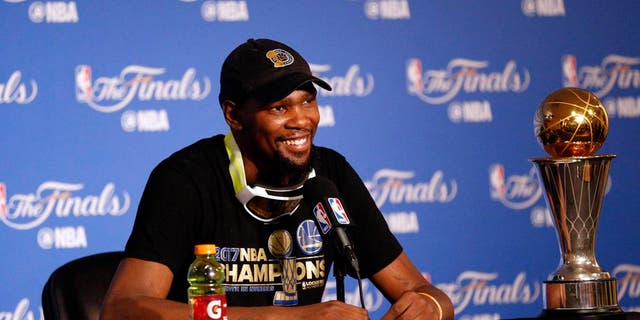 NEWYou can now listen to Fox News articles!
NBA fans knew all season that two "super-teams" were going to meet in the NBA Finals, but after they did no one on those teams seems to want to own that super monicker.
Clevelands LeBron James said he wasnt part of a super-team after Mondays series-clinching Game 5 loss, and Kevin Durant had the same attitude when asked Wednesday about his Golden State Warriors who were super enough with Durant, Steph Curry, Klay Thompson and Draymond Green to beat the Cavs LeBron-Kyrie Irving-Kevin Love trio.
Durant would prefer you think of the Warriors team he joined last summer as a loveable band of misfits and castoffs:
"First of all, if everybody wanted Steph, he would have been the No. 1 pick. A lot of people passed on him. A lot of people doubted Steph, saying he wasn't going to be this good. Klay Thompson, he was just supposed to be this OK shooter in the league, like that's what you thought of Klay Thompson when he came in. Draymond, nobody wanted him. He was a 6-5 power forward. [They said] he couldn't play in the league, he couldn't start in the NBA.Shaun Livingstonhad a crazy knee injury.
"Nobody wanted him. Nobody thought that he would get back to being Shaun Livingston.Andre Iguodala, he got traded a couple of times. Nobody wanted him. A lot of people didn't expect these guys to be where they are today. Superteam? No, we just work extremely well together. Coach puts us in position to maximize our strengths."
Somehow, though, it all worked out maybe because all those guys Durant mentioned managed to win an NBA-record 73 games last season before KD brought his All-NBA self to town and pushed the Warriors to their second championship in three years. Sure sounds like a super-team, doesnt it?