Kentucky Derby: Espinoza could make history, Gutierrez hopes to rewrite it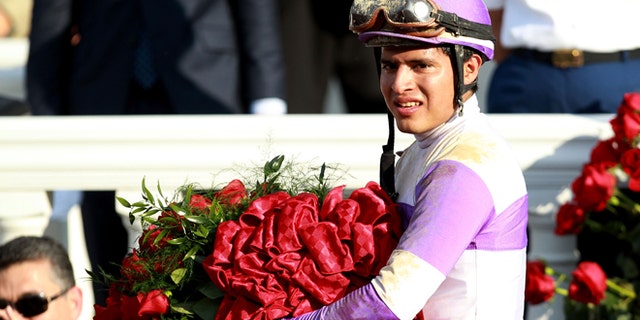 NEWYou can now listen to Fox News articles!
When 20 thoroughbred horses line up on the dirt track at Churchill Downs in Louisville, Kentucky, on Saturday evening, Victor Espinoza could make history.
Mario Gutierrez, on the other hand, is hoping to rewrite it.
Espinoza, of course, is the spectacularly successful jockey who rode American Pharoah to the Triple Crown last year; California Chrome to wins at the Kentucky Derby and the Preakness in 2014; and War Emblem to wins in those same two legs of the Triple Crown in 2002.
Four years ago, a 25-year-old Gutierrez was disappointed when his mount I'll Have Another – which won the first two legs of the 2012 Triple Crown – was scratched from the Belmont Stakes just a day prior to the race due to a tendon injury.
He told the Toronto Sun he knew I'll Have Another wanted to race and could have won. Instead, his chance to be a part of history vanished.
"I cried," he said. "It was very devastating."
Since beginning to work with a fitness coach and overhauling his mental approach to being a jockey, Gutierrez has slowly been climbing his way back into the winner's circle and hoping for a chance to restore his name and get a taste of his former glory.
After the disappointment at the Belmont, Gutierrez returned to his home course, the Hastings Racecourse in Vancouver, but he struggled to find the winners circle.
He lost races, got dumped by his agent and his confidence vanished. He wound up sliding back to the bottom rung of horse racing, begging for mounts in the morning at the track or asking to help work out the better horses.
But after a few years, his girlfriend (now wife) convinced him to see a sports psychologist. Initially skeptical, he took to the experience quickly, realizing that if a horse needed working out and special diets and extra attention.
He started working on his skills, eating better and training seriously. It didn't take long for him to start winning races and climbing in the jockey earnings list.
One of the things he did when things weren't going so well was making the rounds, trying to get to know the younger horses. Which is how, he told the Sun, he first met Nyquist – a horses on which he's won seven races including beating Mohaymen, the favorite to win in the hotly contested Florida Derby.
On Saturday he'll return to Churchill Downs aboard the 3-year-old colt. While Nyquist is the 3-1 favorite in the crowded Derby field, insiders aren't sure whether Nyquist can successfully compete in the longer races such as the Belmont.
Gutierrez says he has a plan to tackle the large field of horses.
"We want to stay out of trouble, break clean and find a good position," Gutierrez told the Winnipeg Free Press. "Ideally we don't get into a bumpy situation with anybody."
Gutierrez told the Sun he was happy when American Pharoah broke the Triple Crown drought last year.
But about his horse, he says, "I know he can do it."
"When I am in the gate, I have about 45 seconds before the race starts, and I become very, very calm. It's only me and the horse."
Like us on Facebook
Follow us on Twitter & Instagram