K-State can clinch bowl eligibility with win over slumping Baylor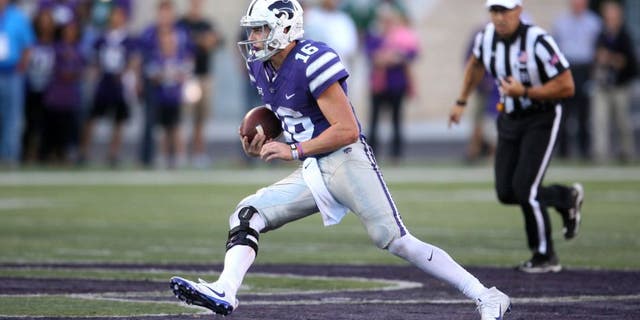 WACO, Texas -- On the same day Baylor seniors will be honored before their final home game on the banks of the Brazos River, true freshman quarterback Zach Smith gets his first career start for the Bears.
Baylor (6-3, 3-3 Big 12) goes into its home finale Saturday against Kansas State with a three-game losing streak and without senior quarterback Seth Russell, who had season-ending surgery this week after a gruesome left ankle injury in a loss last weekend at Oklahoma.
"It's really heartbreaking what happened to Seth, but I mean I just have to honor him and go in there and do what I know I can do," said Smith, who has appeared in six games behind Russell.
"I feel good about Zach," acting head coach Jim Grobe said. "He's just the kind of guy that you want. He's a smart quarterback, he takes his role very seriously, he tries to do exactly what he's coached to do."
Smith will be making his first start against one of the Big 12's best defenses. Kansas State has allowed 393 total yards per game -- the only conference team allowing less than 400 a game. (The Wildcats had one game shortened to a half because of bad weather.)
The Wildcats (5-4, 3-3) need one more win to become bowl eligible for the seventh year in a row and 18th time overall under coach Bill Snyder. They are coming off an open date after another heartbreaking Big 12 loss.
"We got to rest a little bit and we have been practicing basic stuff like running to the ball and tackling," senior linebacker Charmeachealle Moore said. "I think we are just ready to play."
Kansas State lost its last game at home to No. 13 Oklahoma State, which scored two quick touchdowns in the fourth quarter and won 43-37 after the Wildcats opted to punt on fourth-and-inches. In their conference opener at No. 10 West Virginia, K-State blew a 13-0 halftime lead and gave up a pair of fourth-quarter touchdowns in a 17-16 loss.
"The downside is you can lose the continuity, to a certain degree, of playing every single week," Snyder said about the extra time since the last game. "Obviously, there are positive things like giving the players a peace of mind, so to speak, not that there are any real significant days off, but nevertheless the opportunity to not be under the gun constantly."
Some other things to know when Baylor goes for its fifth consecutive victory in the series against the Wildcats:
SHOCK IS BACK: Baylor career rushing leader Shock Linwood is back after a one-game suspension for what Grobe described as attitude issues. Grobe, without elaborating, said that Linwood had made corrections.
"I like to give kids a reminder once in a while that their behavior is more important than their ability on the football field," Grobe said. "I'm expecting we're going to get a guy that comes back and does all the things we want him to do."
ALMOST 200: Snyder earlier this season became only the seventh FBS coach with 300 games at the same school. This will be his 305th game, and now he's going for his 199th victory in his 25 seasons with the Wildcats. He ranks first among active FBS coaches for wins at their current schools.
ANOTHER FRESHMAN QB: This is the second consecutive year that a true freshman Baylor quarterback gets his first career start against Kansas State. Jarrett Stidham, who left Baylor last summer, threw for 419 yards and three TDs in a 31-24 win at K-State last year after Russell had suffered a season-ending neck injury.
CENTURY SIGNAL CALLER: Kansas State quarterback Jesse Ertz has had back-to-back 100-yard rushing games. Ertz is the Big 12's best rushing quarterback at 70 yards per game.
SENIOR MOMENTS: Thirteen Baylor seniors will be honored during pregame ceremonies. This senior class has been part of a 38-10 record and the school's only two Big 12 football championships.