Justin Bour homers late, Marlins drop finale in Los Angeles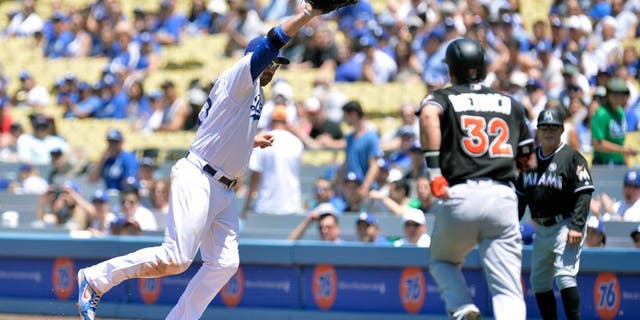 LOS ANGELES (AP) -- Brandon McCarthy and Adrian Gonzalez showed good they can be when they're healthy.
McCarthy retired his first 14 batters and allowed one run over six innings, Gonzalez had three hits and three RBIs, and the Los Angeles Dodgers beat the Miami Marlins 6-3 Sunday.
Gonzalez, who just came off the disabled list on Friday after missing 12 games due to a sore right elbow and back problems, had his first three-hit game of the season to help the Dodgers win three of four against the Marlins to open a 10-game homestand.
"As long as I'm healthy and my back holds up, everything is going to be fine," Gonzalez said. "When my back weakens, my legs weaken. I tried to fight through it and fighting through it is not a good recipe as I learned the hard way. For me, the way I saw it, the first game I came back was the start of my season."
Gonzalez was 1 for 8 in his first two games back but was back on track on Sunday.
"That's what I pride myself in," Gonzalez said of driving in runs. "It's not like I'm putting more responsibility. It's just what I try to dot. My whole career I've been pretty good with runners in scoring position and runners on base. I've never been all that good with nobody on. It's something that's been what I've been able to do."
Yasmani Grandal had three hits, including a pair of doubles, for the Dodgers.
McCarthy (4-1) did not allow a hit until Derek Dietrich's double in the fifth. A.J. Ellis, playing in his first game in Los Angeles since the Dodgers traded him to Philadelphia last year, followed with a run-scoring single.
McCarthy, who missed most of the last two years while recovering from Tommy John surgery, allowed three hits.
"A lot of it is just focus and getting reset after two years of being up and down and all over the place," McCarthy said. "I had a healthy offseason where I could focus on myself and pitching again instead of just focusing on my arm. I kind of brought back the me that I would like to be. I'll just try to hold that through the season."
Dee Gordon doubled with one in the sixth and Christian Yelich walked before McCarthy retired Marcell Ozuna and Giancarlo Stanton on groundouts.
Four relievers finished a seven-hitter.
Vance Worley (0-1) made his Marlins debut and allowed three runs and six hits in four innings. The 29-year-old right-hander had been 2-5 with a 4.43 ERA in eight starts at Triple-A.
"I thought I made some pretty good pitches, but Adrian did most of the damage," Worley said.
Gonzalez hit a two-run double in the first, and Joc Pederson homered for a 3-0 lead in the third. After Ellis' single cut the gap, Gonzalez hit a run-scoring single in the fifth and the Dodgers made it 6-1 in the sixth when Brett Eibner, batting for McCarthy, hit a two-run single that deflected off the glove of Dietrich at third and into left field.
Ozuna singled in a run in the eighth, and Justin Bour homered off Kenley Jansen leading off the ninth.
However, McCarthy had done too much damage.
"He generally kept us off balance and (he was) really the difference," Marlins manager Don Mattingly said. "He was able to keep us down and took us four or five innings to score and as we start to get to him they get into their bullpen."
URIAS DEMOTED
Dodgers 20-year-old left-hander Julio Urias is headed back to the minors after five starts. He gave up 13 earned runs in his last two starts, including a career-high seven runs Saturday in which he was done after 2 1/3 innings.
"The inconsistency of hitting his locations has unfortunately been consistent," manager Dave Roberts said. "I don't think it has anything to do with the umpire's strike zone. There's something to learning the major league strike zone, I guess, but there's also a component of hitting the catcher's mitt."
TRAINER'S ROOM
Dodgers: OF Yasiel Puig (back) was held out of the starting lineup for the second straight day. He pinch hit in the eighth and struck out. … INF Logan Forsythe (toe, hamstring) is expected to return on Tuesday and play third base.
UP NEXT
Marlins: RHP Jose Urena (1-2) is to start Tuesday at Oakland.
Dodgers: LHP Clayton Kershaw (7-2, 2.15 ERA) is slated to start Tuesday against St. Louis. He is 6-5 against the Cardinals in the regular season but 0-4 in the postseason.