Junior dos Santos makes bold prediction for his rematch with Stipe Miocic at UFC 211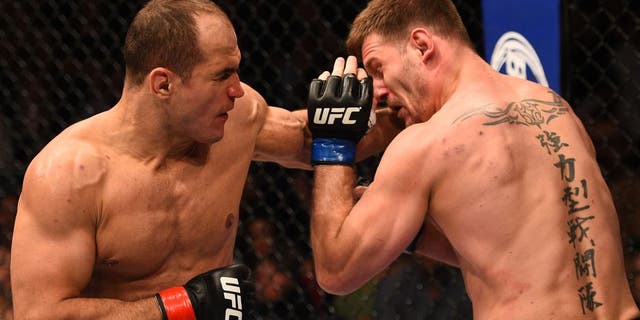 It's been nearly five years since Junior dos Santos could last call himself the UFC heavyweight champion and that's far too long in his mind.
The bruising Brazilian heavyweight was first crowned champion when he sent Cain Velasquez packing with a brutal knockout just 64 seconds into their fight back in 2011.
Dos Santos dropped the belt back to Velasquez a year later and he's never reclaimed the championship again.
Now he'll get his opportunity when dos Santos faces current heavyweight champion Stipe Miocic in the main event at UFC 211 in Dallas on May 13. Dos Santos is very familiar with Miocic after he handed him the last loss he suffered in the UFC when they met in 2014.
Now dos Santos is determined to duplicate his performance because there's nothing he wants more in this world than to have that title wrapped around his waist while also earning back a nickname synonymous with heavyweight champions in the UFC.
"That's amazing to have the belt, to be the baddest man on the planet. It's not for everybody. Everybody wants to be, but not many of these guys will reach this point in their career," dos Santos told FOX Sports recently. "To get there and become the champion, it means a lot. My motivation of course it's my family, it's everything what I'm leaving that is amazing, but to be the baddest man on the planet. That's unbelievable.
"In the whole world, Brazil, America, China, Japan, everywhere, in a fair fight, you are the guy. Can you imagine that? Oh my gosh, there is no better feeling than that. You are the baddest man on the planet. So I'm fighting for that. I'm fighting to beat this guy again and I'm sure I'm going to beat him."
Per Haljestam-USA TODAY Sports
When it comes to the matchup with Miocic, there is no trash talking from dos Santos' side because he has nothing but respect for the Ohio native, especially after engaging in a five round war with him the last time they met.
Mutual respect is good, but dos Santos promises that doesn't take away from his desire to separate Miocic from consciousness when they meet in the Octagon next weekend.
In the days leading up to the fight, dos Santos will likely have a smile on his face and he'll be as cordial and professional towards Miocic as humanly possible.
That all changes once they are standing across the cage from each other where only one man can walk out UFC heavyweight champion.
"Stipe Miocic is the real deal in this division. He hits very hard, he's got really good boxing skills, really good wrestling skills, so I know everything. But I am the No. 1 in this division," dos Santos said. "I can feel this. After everything was happening in this division, every time I sit down and watch the fights and take a look at the whole thing, the whole scenario, I can see that I deserve to be the champion again.
"If I put in good work, it's going to happen. It's a matter of time. There's nowhere you can hide yourself. I'm going to find you and I'm going to beat you."
Dos Santos is probably the last fighter in the world who would ever be defined as cocky going into any of his bouts in the UFC, but there is a simmering confidence just beneath the surface that he's ready to reclaim the title he last surrendered five years ago.
That's why dos Santos is happy to make a prediction for his fight against Miocic one with a much different outcome than the 25-minute instant classice they put on the last time.
"My prediction is this time I'm going to finish Stipe Miocic before the end of the second round," dos Santos stated. "I have much respect for him, but I'm coming to win."