JR'S 7 points to ponder as Oklahoma faces Kansas State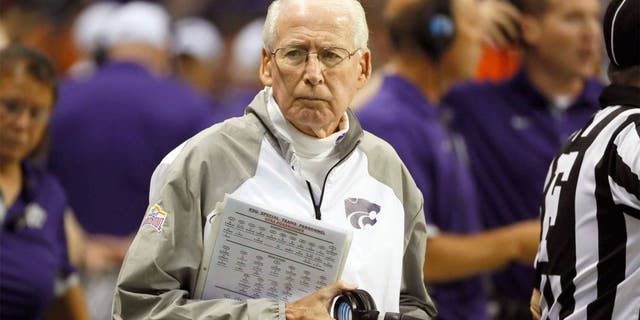 Oklahoma continues its Big 12 schedule with a meeting against Bill Snyder and Kansas State.
1. Sooner defense: Arguably the key to a Sooner win Saturday in another pivotal, Big 12 Conference game. OU has given up at least 40 points in each of the last three games. That stat won't win a championship.
2. KSU defense: Best front seven in Big 12 headlines the nation's third-best run D. KSU is the league's best defense, which might be akin to being the skinniest kid at fat camp as it relates to the Big 12. DE Jordan Willis is a standout and stated that OU's RB's are "pretty easy to tackle." Hmm...
3. Perine & Mixon: Offensively, OU seems to be a different team when the Sooners version of 'Thunder & Lightning' are productive. The Wildcats' defense pose a $2 steak tough challenge to the Sooners' running game and OU's young offensive line.
4. DeDe: The "Westbrook not named Russell" has been on fire and has provided Stoops Troops a much needed "go-to" receiver and a viable deep threat. Can this trend continue? Expect TE Mark Andrews to have a much-needed, productive outing unlike the Texas game.
5. Walking wounded: Many teams have injury issues this time of the year but OU has been plagued seemingly more than most. Will these injuries finally catch up to the Sooners? Or will the Sooners' young, talented, "next men up" rise to the occasion?
6. Turnovers: OU made too many turnovers last Saturday in the Cotton Bowl, which cannot be replicated against K-State, which traditionally doesn't self-implode. For the Sooners, taking care of the football isn't an option.
7. Home-field advantage: Can the sellout crowd 'bring it' again Saturday for the 11:07 am CT kickoff as was present for the Ohio State contest? Anyone else concerned that this matter of crowd noise has to be consistently addressed?
The Sooners haven't defeated Kansas State in Norman in seven years. Wily Wildcat HBC Bill Snyder is an excellent coach who will have a solid plan in hopes of avenging his team's embarrassing 55-0 trip to the woodshed last season in Manhattan.
Prediction: Oklahoma 30 KSU 21 (OU is -10.5)
Boomer Sooner!
Jim Ross @JRsBBQ
Jim Ross is a member of three, pro wrestling halls of fame, a New York Times best selling author, host of the weekly, Ross Report podcast on iTunes, and boxing commentator on CBS Sports Network. JR and wife Jan just celebrated their 23rd wedding anniversary and live in Norman. Order JR'S amazing BBQ Sauces, Chipotle Ketchup, Main Event Jalapeño Honey Mustard & All Purpose Seasoning at www.wweshop.com.