JR Motorsports posts message of NASCAR community congratulating Dale Jr. on retirement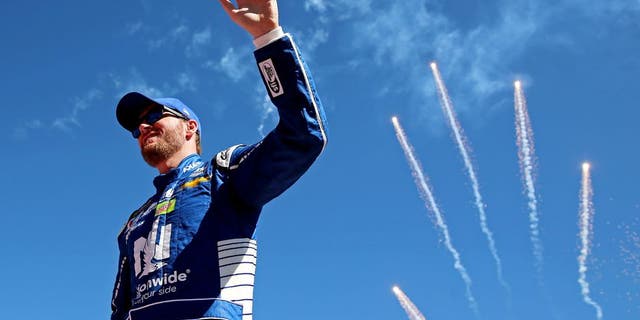 NEWYou can now listen to Fox News articles!
JR Motorsports brought together some of NASCAR's stars, both past and present, to send a special thank you message to Dale Earnhardt Jr. after announcing his retirement from racing at the end of the 2017 season.
In the three-minute video message, current Monster Energy NASCAR Cup Series drivers Kyle Larson, Danica Patrick, Ricky Stenhouse Jr. and more, give Earnhardt encouraging words for heading into retirement.
Included in the video are the current stable of JR Motorsports XFINITY Series drivers and crew members, including Earnhardt's spotter, TJ Majors.
Majorstells the funniest story of the video.
"There's that time I poured my beer on your foot in the bathroom at some bar," Majors said. "You thought some guy was pissing on your foot so you dropkicked him into the toilet, basically."
Another funny moment came from Regan Smith, who sent his message from the bathroom where his son is taking a bath and tells Dale Jr. that this is a preview of his life after racing.
Tony Stewart congratulates Earnhardt and tells him that things are a lot more relaxed in retirement and, "it's a far cry from when you and I were watching our crew chiefs box each other in the Busch Series trailer at Pikes Peak."
Check out the full video posted by JRM's social media team below.