Josh Hader gets standing ovation just days after offensive tweets resurfaced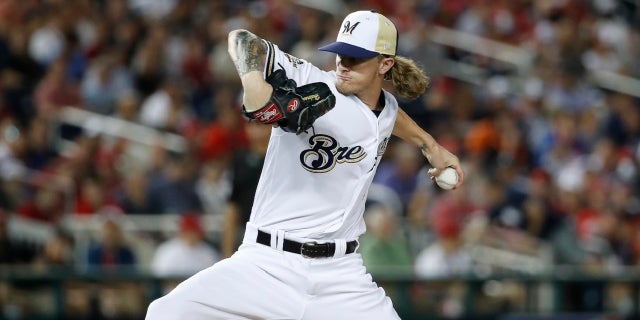 Milwaukee Brewers reliever Josh Hader on Saturday was greeted with a standing ovation by his fans as he emerged for the first time since his 7-year-old homophobic and racist tweets were revealed last week.
Hader, 24, appeared during the game against the Los Angeles Dodgers, which the Brewers won 4-2.
The reliever was introduced by the public address announcer as 36,000 fans in attendance began cheering and standing at Miller Park.
This is the first time Hader appeared since his old social media postings were discovered last Tuesday. Among the tweets sent by a teenager Hader in 2011 and 2012 was at least one post in which he used the N-word and another one saying, "I hate gay people."
The athlete promptly apologized on Tuesday after the All-Star Game last week. "As a child I was immature. I said some things that are inexcusable," Hader said, adding that the tweets do not reflect his current beliefs. "There's no excuse for what was said."
Major League Baseball announced the next day that Hader wouldn't be suspended for the offensive social media posts, arguing he showed sufficient remorse during the controversy and he agreed to undergo sensitivity training.
BREWERS ALL-STAR JOSH HADER AVOIDS SUSPENSION, TO ATTEND SENSITIVITY TRAINING OVER OLD TWEETS
Fellow Brewers players believe Hader's apologies and assurances that he's a changed man. "It's amazing. It tells me that they have my back and that we are a true family," Hader said Friday after offering a direct apology to his teammates at the clubhouse.
Outfielder Brett Phillips said Hader was sincere in his apology. Manager Craig Counsell described the reliever as emotional and remorseful.
"I just want them to know that I'm sorry for what I did back in the day and the mistakes that I made," Hader said, "and that they are a family to me and that they (the tweets) aren't me and what I meant."
"They were never my beliefs. I was young. I was saying stuff out of just ignorance and that's just not what I meant," he added.
The Associated Press contributed to this report.