Jose Fernandez takes aim at 9th straight win, Marlins record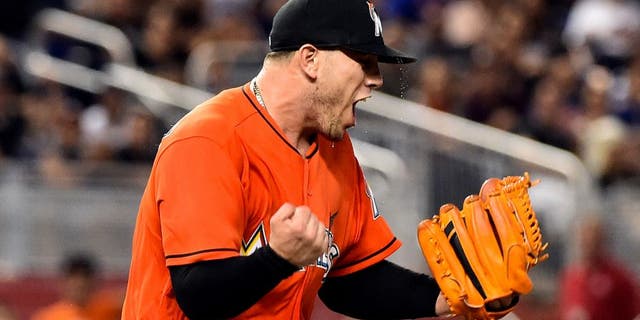 NEWYou can now listen to Fox News articles!
MIAMI (AP) -- Jose Fernandez sashays into the Marlins' clubhouse after a win, smiling and singing.
"I'm walking in here for a good time," he said. "I feel blessed. Hey-ya!"
His intonation is only fair, but his enthusiasm tops the charts. This is the new, more mature and mellow Fernandez, exercising better control of his emotions to improve his command on the mound.
Miami's 23-year-old ace is still a big kid. When he threw strike three on his final pitch in his most recent start, he pirouetted on the mound to punctuate the performance. His demonstrative demeanor can still annoy opposing dugouts, most recently when he was accused of staring down the Tampa Bay Rays.
And when he's not pitching, he remains the head cheerleader on the Marlins' bench.
"There's an energy he brings as soon as he comes in the locker room," Miami closer A.J. Ramos said. "He comes in, he plays his music, he's really vocal. He's even more vocal when he pitches, and then he goes out there and does his job. The way he is pitching is amazing."
That's a good word for it. Fernandez (9-2, 2.29 ERA) ranks among the major league leaders in wins, ERA and strikeouts. He'll seek to win his ninth start in a row Saturday at Arizona, which would break the team record he shares with Chris Hammond.
The right-hander's stats -- 1.38 ERA and 78 strikeouts over the past eight starts -- are surpassed by just two other pitchers during an eight-game win streak (Randy Johnson in 1999-2000 and Clayton Kershaw in 2014). And he just keeps getting better.
In his most recent win, Fernandez struck out 14 New York Mets in seven shutout innings. He became only the third pitcher to strike out at least 14 without allowing a walk or a run in a start of seven innings or less.
"He's just got a presence up there, and an attitude that works in his favor," Mets outfielder Michael Conforto said. "He definitely rides on that emotion, and he does a great job of not getting too carried away with it. I think he's a great competitor."
Marlins first-year manager Don Mattingly has lobbied Fernandez to dial it back, with some success. Against the Mets, for example, Fernandez's fastball was often clocked at less than 95 mph, and he picked his spots to ratchet up to his more typical 97 or 98.
"We just continue to see him not be max effort all the time, and that's what we like," Mattingly said. "He's pitching with his change-up, he's using his breaking ball, he's changing speeds even with his fastball. We see a more under-control Jose as far as making pitches and maturity toward pitching. But then we still get to see the emotional kid who likes to compete, and it's fun to watch."
Mattingly managed the even-keel Kershaw in Los Angeles, and while Fernandez's mound demeanor is unlikely to remind anyone of the Dodgers' ace, he's trying to move in that direction.
"A lot of it is location and making the right pitches at the right time," Fernandez said. "It's something we've been working on. I like to throw 155 mph every pitch, but there are things you learn, and you become a pitcher and not just a guy who has good stuff."
He praises the guidance he has received from Marlins second-year catcher J.T. Realmuto. When Fernandez complained during a game last week that he had his worst fastball of the season because his velocity was down, Realmuto took exception.
"Worst fastball, best fastball location," Realmuto said. "It's more important to pitch 94 down in the zone hitting your corners than it is to throw 98 down the middle.
"He's maturing in that aspect. You can see a difference with his control and his velocity. He's hitting his spots a lot better."
Stuff has never been an issue for Fernandez, either before or after his Tommy John surgery in May 2014. He was 16-8 with a 2.25 ERA before the operation, and his record since is 15-3 with a 2.58 ERA.
But when Fernandez finds himself in a jam, his approach has changed. He describes the objective: "Try to make a pitch and not try to do too much, not go crazy."
At least not until the ump signals strike three.