José Fernández shuts out Reds through 7 innings, helping Marlins win, 2-0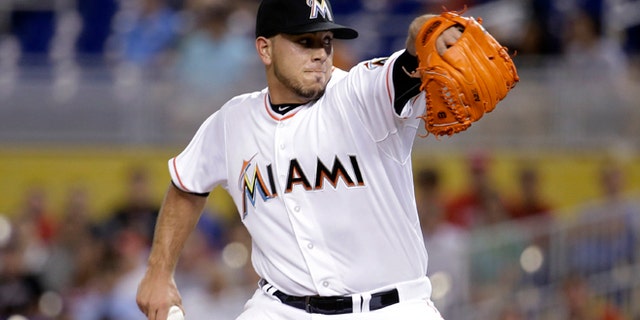 MIAMI (AP) – José Fernández sometimes looks into the stands at Marlins Park and trades grins with the fans, many of whom have never seen him lose in person.
He wants to keep it that way.
Fernández pitched seven innings Thursday and tied the modern record for most consecutive home victories by a starter to begin a career, helping Miami beat the Cincinnati Reds 2-0.
Fernández won for the second time in two outings since his return from Tommy John surgery. He allowed six hits, struck out nine and improved to 14-0 in 22 career starts at Marlins Park.
The only other pitcher since 1914 to win his first 14 home decisions as a starter was Johnny Allen of the Yankees in 1932-33, according to STATS. Fernández lowered his home ERA to 1.17.
On the road he's 4-8 with an ERA of 3.93. Does he get more amped up pitching at home?
"It looks like it," he said. "I'm just lucky to be out there on that mound."
The young Cuban defector has been a fan favorite in Miami since his rookie season in 2013. He was enthusiastically supported by the crowd of 25,027, larger than normal for the attendance-challenged Marlins.
"It was fantastic. I love it," he said. "Sometimes I look in the stands and see the kids laughing and saying my name, and it's really special. Knowing everything I've been through, I really appreciate it."
All-Star Dee Gordon stole three bases, scored both runs and broke the Marlins record for hits before the All-Star break with 119. Miami snapped a four-game losing streak.
Michael Lorenzen (3-4), whose outing was delayed a day when the Reds were rained out Wednesday at Washington, went six innings and allowed two runs — too many against Fernández.
Working on six days' rest, Fernández faced his biggest jam when he allowed singles by Marlon Byrd and Eugenio Suárez on consecutive pitches in the seventh. Tucker Barnhart then grounded into a double play, ending the inning and Fernández's night.
"We've seen him before, and we know he's good," Reds manager Bryan Price said. "He didn't make any fatal mistakes by walking people, falling behind or giving up the big hit that could have done the damage and gotten us back in the game."
Fernández, who threw 94 pitches, was still reaching 96 mph in the seventh and mixed in lots of off-speed stuff. He walked none and has yet to walk a batter in 13 innings this season — all at home.
"He loves Miami, that's all I can say," manager Dan Jennings said. 'There's a little bit of an aura when he pitches at home."
Fernández struck out Joey Votto, Jay Bruce and Eugenio Suárez twice each.
"He's Fernández — that's all you need to know," said Billy Hamilton, who had an infield single off the Marlins ace. "He's a great pitcher. With this guy, you don't know what you're going to get. He can throw any of his pitches at any time during the count. You have to be ready for anything."
A.J. Ramos pitched around a leadoff double by Votto in the ninth to earn his 14th save in 17 chances. All-Star Todd Frazier flied out to the warning track and kicked the turf in disgust. Bruce then struck out, and Byrd popped out.
Ramos lowered his ERA to 1.13.
Gordon singled in the first, stole second and third and came home on a two-out, 415-foot double by Justin Bour. Gordon singled again to start the fifth, advanced on a walk, stole third and came home on a double play groundout to make it 2-0.
The Marlins totaled five hits and won despite going 1 for 9 with runners in scoring position.
Like us on Facebook
Follow us on Twitter & Instagram