Jose Fernandez high school jersey stolen during vigil returned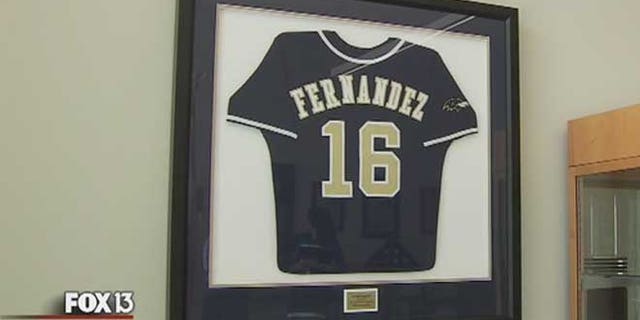 NEWYou can now listen to Fox News articles!
TAMPA – Jose Fernandez's former coach and principal in Tampa put out a plea Thursday for the return of Fernandez's Alonso High School jersey, which was stolen following a candlelight vigil a night earlier, and now it has been safely returned.
A family saw a large envelope leaning up against the ticket booth at Alonso High School with the words "Jose's jersey" written on it. and brought the envelope into the school Friday morning, where it was opened and confirmed that Jose's jersey was in fact inside.
An Alonso High School representative released the following statement: "The entire Alonso High School family is grateful to have the jersey back and would like to thank the media and the outpouring of social media posts which shared this story."
As many as 600 friends and fans gathered Wednesday at Alonso to remember Fernandez, who was killed Sunday in a boating accident. Fernandez, 24, led his high school baseball team to two state championships before becoming an All-Star Major League Baseball player with the Miami Marlins.
"It boggles my mind just that somebody would do something like that, especially when we're doing something nice for Jose and just thinking of him and knowing that he's not going to be with us anymore," said Landy Faedo, Alonso High School's baseball coach said before the jersey was returned.
Faedo said there were two jerseys on display during the vigil: a framed one that was placed on the field and one hanging in the dugout.
The one in the dugout, which actually belongs to Faedo, was taken some time toward the end of the event.
"I was so irate last night that I called the Sheriff's Department and drove back over here to meet with a couple of the deputies," Faedo said. "That one I just brought out so people could see it, so when they first walked in the dugout, they'd see that number 16 there and they'd just give him a quick thought about Jose real quick."
School administrators don't think an employee or a student would have taken the jersey.
Principal Ken Hart was stunned when he found out that it was gone.
"I said, 'are you kidding me? I mean, seriously, are you kidding me?'" Hart told Fox13, adding that the jersey symbolizes more than baseball. "It's really a symbol of a dream fulfilled, a life cut short – but it's really a symbol of all that's good about athletics and sports."
For more Florida stories visit fox13news.com
Like us on Facebook
Follow us on Twitter & Instagram