Jordan Cameron: 'Everybody would run through a wall for Dan Campbell'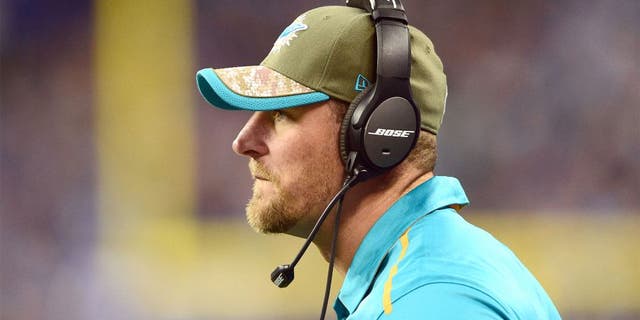 It didn't take long for interim head coach Dan Campbell to make his mark on the Miami Dolphins. In just his first practice as head coach, Campbell installed Oklahoma drills to increase his players' toughness.
Well, it seems to have worked because Jarvis Landry and Cedric Thompson got into a scuffle during practice on Wednesday. It's exactly the type of fire Campbell wants to see from his players.
Additionally, he'll likely be happy to hear what tight end Jordan Cameron had to say about him.
"I think he brings a lot of energy, a lot of passion," Cameron said via CBS Miami. "He loves this game. Every time he talks about football he gets the chills. You can see it on his arms. He loves football and it's a guy that you can get behind and like I was saying before, everybody would run through a wall for Dan Campbell. Everyone in this locker room would say the same thing and I think it's awesome, the loyalty we have towards him is huge. It's gonna be a good thing."
Campbell's presence has seemingly already changed the mindset of many of his players. Under Joe Philbin, the team looked flat and uninspired. That's not likely to be the case for the Dolphins under Campbell.
MORE NEWS: Want stories delivered to you? Sign up for our NFL newsletters.