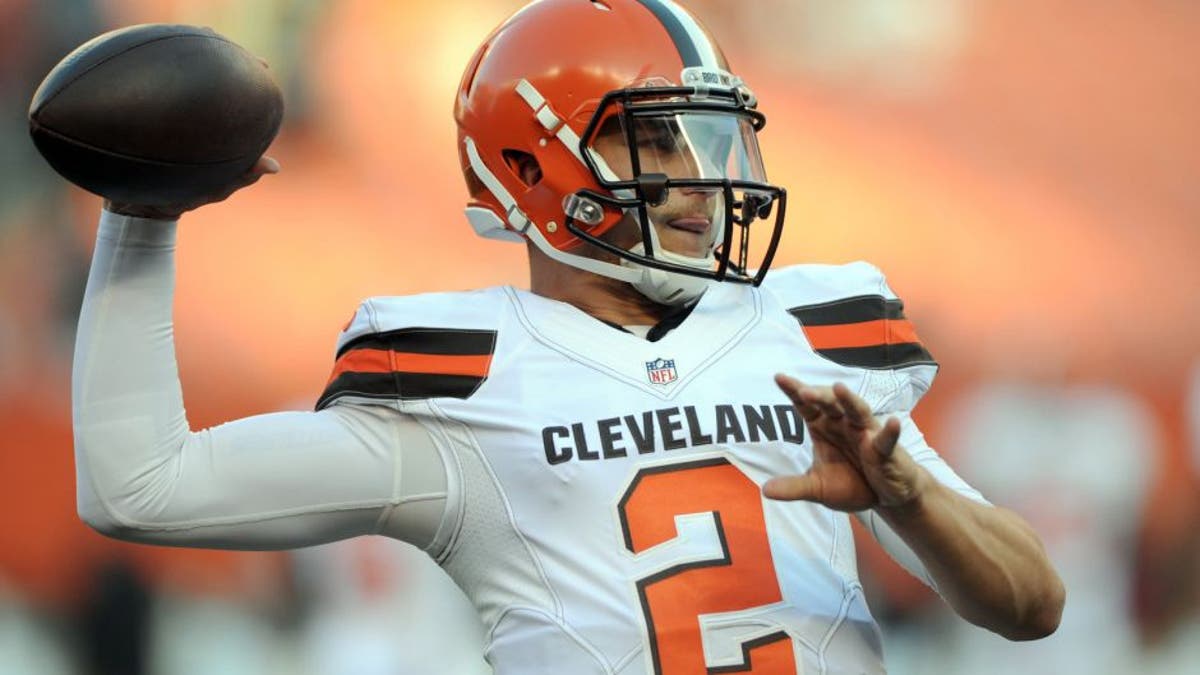 Johnny Manziel entered the NFL with a flair for making sensational plays. And, as it turns out, an elbow problem.
Manziel's right elbow soreness -- a problem the Browns said has troubled the former Texas A&M star since he was in high school -- isn't going away, so the team is shutting him down.
Mike Pettine said the second-year quarterback will likely sit out an exhibition Saturday at Tampa Bay.
"It hasn't bounced all the way back," Pettine said. "We're going to err on the side of caution."
An MRI did not reveal any structural damage in the 2012 Heisman Trophy winner's elbow.
Manziel has been slowed by soreness for at least the past two weeks of training camp. The pain flared up Sunday on a long throw, forcing him off the field for the final 30 minutes of practice. He didn't throw on Monday, and following a scheduled off day for the team, Manziel was again limited to just handing the ball off during Wednesday's workout.
Pettine said afterward the Browns will discuss signing another quarterback. Among the free agents available are Jason Campbell, Tyler Thigpen and Josh Johnson, who have all spent time with Cleveland.
If Manziel is out, the team is down to just presumed starter Josh McCown and veteran backup Thad Lewis. Connor Shaw, who started Cleveland's season finale in 2014 and was listed No. 3 on the depth chart, recently underwent ligament surgery on his right thumb and will miss significant time.
While the Browns are downplaying Manziel's injury, it's more drama for the 22-year-old whose bad rookie season was followed by a 10-week rehab stint for an unspecified condition. The team has been satisfied with Manziel's progress on and off the field, and Pettine doesn't view the injury as a roadblock in the development of the former first-round draft pick.
"I just see it as a minor setback," Pettine said. "If this was something he hadn't experienced before and the MRI showed some damage, I mean I would be a lot more concerned."
Manziel was not available for interviews following practice. His injury clears the way for McCown to be named Cleveland's starter for the Week 1 opener against the New York Jets, an announcement Pettine has delayed.
Pettine said Manziel has been able to handle the elbow issue in the past.
"He's managed it, and I just think he just went a little bit too far with it," Pettine said. "Could he play if he had to? More than likely he could. But why do that in the preseason? If this was the regular season it might be a different story. But we just want to be cautious and not have it develop into something that can continue to bother him throughout the year."
Manziel will have fewer snaps now that training camp is over, and that should help his elbow, Pettine said.
Meanwhile, Pro Bowl cornerback Joe Haden and wide receiver-in-training Terrelle Pryor returned to practice after being sidelined with hamstring injuries.
Pryor's chances of making Cleveland's roster lessen every day he's not on the field, and Pettine said he's "hopeful" the former Oakland quarterback will play against the Buccaneers. Pryor's snaps were limited Wednesday, and Pettine said the key will be how he responds from the workload and if he can build off it for Thursday.
"It wasn't ideal to have guys back and have the field be slick," Pettine said. "But there weren't any issues with it, so hopefully we can get him out there tomorrow and if he makes it through tomorrow he should be good to go for Saturday."
Browns Pro Bowl safety Tashaun Gipson also returned after missing time with a calf injury.