John Danks offers positives for White Sox despite 4-1 loss to Padres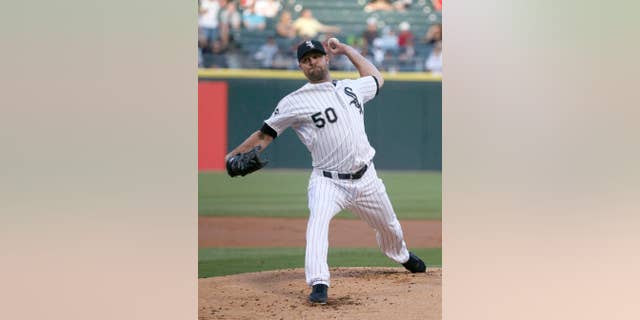 CHICAGO – There weren't many positives for the Chicago White Sox during a 4-1 loss to the San Diego Padres on Friday night.
The performance of starter John Danks, who has strung together back-to-back quality starts, was one of them.
Danks (3-5) followed an impressive outing against the New York Yankees with seven effective innings against the Padres. He allowed two runs and scattered eight hits, struck out four and walked one.
"I for the most part was able to get the kind of contact I wanted," said Danks, who pitched eight shutout innings last Saturday but ended up with a no-decision in Chicago's loss to New York. "Obviously, made some mistakes and got burned for them, but all in all it was a good day."
San Diego starter Ian Kennedy struck out nine in six strong innings and Yonder Alonso hit a two-run homer.
"Ian's fastball, I thought it was the key tonight," Padres manager Bud Black said. "The fastball right from the get-go had life in the hitting area."
Cameron Maybin hit his first home run of the season and Alonso finished with three hits as the Padres ended Chicago's three-game winning streak.
Despite the loss, manager Robin Ventura was encouraged with the progress Danks and the rest of the rotation have made behind ace Chris Sale, who had his next start moved from Monday to Sunday prior to the game, scuttling a potential matchup with Dodgers ace Clayton Kershaw.
"They've come along," Ventura said. "With Johnny coming on the way he is, Hector (Noesi) and Andre (Rienzo) picking up the slack and starting to progress, I think they're getting stronger as we go along."
Kennedy (4-6) allowed one run and four hits with three walks. The lone run was set up by Maybin's mental lapse in center field.
Huston Street pitched a perfect ninth for his 16th save in 16 opportunities. Nick Vincent and Joaquin Benoit backed up Kennedy with a scoreless inning apiece.
Kennedy has struggled to get help from San Diego's offense. Before the game, he ranked 98th out of 101 qualified pitchers with 2.79 runs of support per nine innings. He struck out the side in the fifth and Conor Gillaspie leading off the sixth.
Maybin led off the third with a home run on a 2-0 pitch from Danks.
Danks got help from second baseman Gordon Beckham. Everth Cabrera put down what appeared to be a perfectly placed bunt, but Beckham dove at the ball in the infield grass and swiped the ball with his glove to Adam Dunn at first for the out.
With one out and Gillaspie on second in the fourth, Alexei Ramirez hit a routine fly to Maybin in center field. Maybin thought it was the third out of the inning. He put his head down and started jogging in. Gillaspie took notice and tagged up to third without a throw.
One pitch later, Gillaspie scored on Kennedy's wild pitch to tie it at 1.
"You hate to see that," Black said. "Cam, when he came in, the first guy that he went to was to Ian and apologized. Cam doesn't make those mistakes."
Rene Rivera led off the fifth with a double to the warning track in center and later scored on Danks' wild pitch to give the Padres a 2-1 lead.
Alonso added insurance runs in the eighth with a two-run drive off reliever Javy Guerra. It was Alonso's fourth homer of the season.
Danks, who has gotten dialed in during off-day bullpen sessions with pitching coach Don Cooper, was already looking ahead to his next start with confidence.
"I'll throw (another bullpen session) on day three and then go be ready to beat the Dodgers," Danks said. "I'm confident, feeling good, feeling like I can give us a chance to win."
NOTES: Chicago DH-1B Paul Konerko, bothered by a stiff back since Tuesday, said he was available to pinch-hit. ... Ventura reiterated his support for RHP Ronald Belisario (3-0, 5.10) as the team's closer, saying there was no need to break in somebody else. Belisario has three saves in six chances.