Joey Logano dominates Bank of America 500, advances in Chase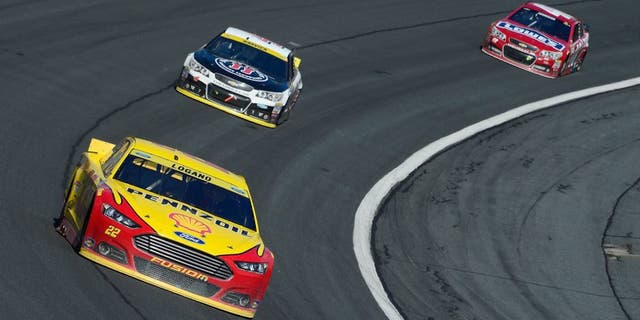 NEWYou can now listen to Fox News articles!
The wait of a one-day rain delay was worth it for Joey Logano and his No. 22 Ford team in the Bank of America 500 at Charlotte Motor Speedway.
The Team Penske driver dominated the day to win at the 1.5-mile track on Sunday, locking him into the next round of the Chase for the Sprint Cup.
"We had a great car," Logano said after the race. "(Crew chief) Todd Gordon and this Shell/Pennzoil team, all of Team Penske, you always want to win it. Charlotte is everybody's home turf and you want to make it happen here. What a great car."
The race was run under sunny, perfect conditions -- after being postponed from its originally scheduled Saturday night start because of heavy and persistent rains.
Logano came away the victor, leading a race-high 227 laps. It was his first career win at Charlotte.
"We led a ton of laps," Logano said.
No kidding. He also beat the defending Sprint Cup champion Kevin Harvick, who finished second while a myriad of other Chase contenders -- including pole-sitter Matt Kenseth, Kyle Busch and Dale Earnhardt Jr. -- encountered major issues, with their champioinship hopes taking hits as a result.
Logano admitted that it felt good to beat Harvick, who won the previous week at Dover in a must-win situation to keep his title defense hopes alive and stamp himself as a Chase favorite once again.
"I think everyone saw how fast he was last week and it probably made a lot of people nervous, but our team kept their heads up and stayed confident. We know we can beat them," Logano said.
Logano said his pit crew deserved much of the credit.
"We know we've got what we need over here and our team is as tight-knit as they get. I'm proud of them. I couldn't be more proud of them," Logano said. "We had a lot of money stops today to keep us out front. The pit stops were great and I couldn't be more proud of what they're doing right now."
Among the incidents that hurt Joe Gibbs Racing teammates Matt Kenseth and Kyle Busch was one strange one in which Busch ran into Kyle Larson -- or Larson ran into him -- as the cars of the two drivers converged on pit road just before Lap 200. Both their cars were badly damaged after they had been running up front, with Larson in second at the time.
Neither was able to recover.
Earlier, pole-sitter Kenseth appeared to be tapped from behind by fellow Chase driver Ryan Newman, cutting a tire and leading to a series of day-long problems that not only ruined his chances of winning the race but also put his hopes of advancing to the third round of the Chase -- NASCAR's playoffs -- in jeopardy.
And Earnhardt Jr. said he "hit the wall so many times I lost count." His chances of advancing in the Chase also are in jeopardy with two races left in the Contender Round -- next week at Kansas and the following week at Talladega, where Earnhardt won the last race held at the superspeedway in May.
Only eight of the remaining 12 Chase drivers will advance to the Eliminator Round after Talladega. Logano's victory Sunday guarantees he will be one of them.