Joey Logano comes from the back to win at Richmond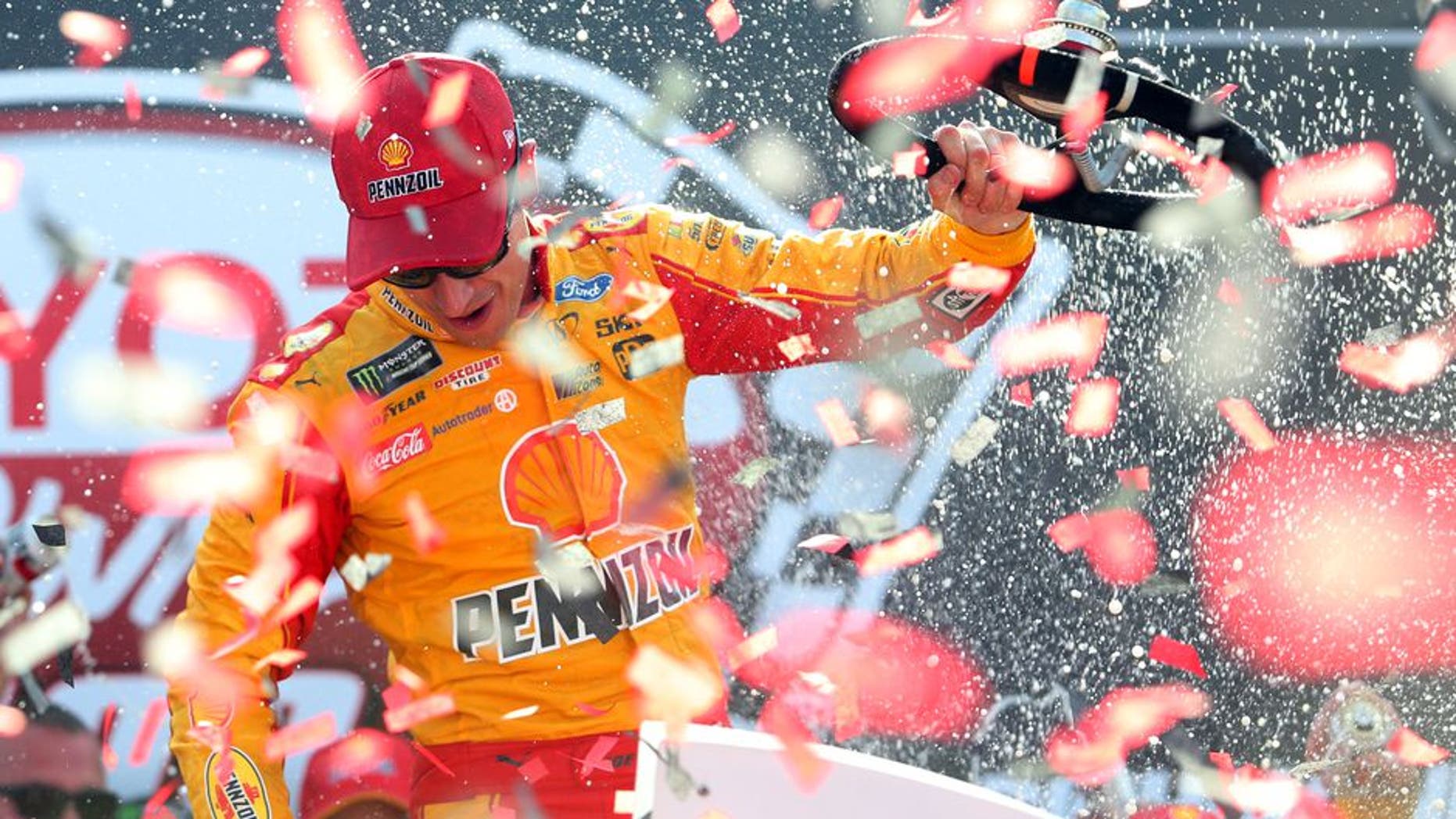 Joey Logano came all the way from the rear Sunday to win the Toyota Owners 400 Sunday at Richmond International Raceway.
Logano had to go to the next-to-last starting spot in the 38-car field after his No. 22 Team Penske Ford underwent a transmission change after qualifying. It didn't faze him.
"That was all I had inside the car … ," Logano said. "I am proud of the effort of the team. We executed under pressure today and brought a car that was a 5th-to-10th place car home to Victory Lane.
The action really heated up with 30 laps to go, when the Team Penske tandem of Brad Keselowski and Logano stayed out on the track and the rest of the field pitted. They ran only six laps before Ryan Blaney slid into the outside wall, bringing out another caution and setting up a frenetic restart with 19 laps remaining.
This time, Kyle Larson and Ricky Stenhouse Jr. were on the front row as a total of five cars stayed out.
Logano wasn't one of them. He pitted and took on four fresh tires for the stretch run -- and it took him less than two full laps to get around Larson for the lead.
He also shed one of his fiercest competitors when he dove to pit road at the last possible second, and Kyle Busch, who was running second at the time, was guilty of a commitment line violation when he attempted to follow Logano. That took Busch's No. 18 Joe Gibbs Racing Toyota out of contention when it appeared he was going to battle Logano for the win down the stretch.
Asked to comment on the violation after the race, Busch told FOX Sports only, "Balls and strikes." Apparently, he thought NASCAR officials made a judgment call and got it wrong, although television replays showed otherwise.
"I dont think we would have been able to win the race and hold off Kyle (Busch) if it had stayed green," Logano admitted.
From there, Logano set sail and didn't slow down until he could set his GPS for Victory Lane.
Keselowski finished second, with Denny Hamlin, Stenhouse Jr. and Kevin Harvick rounding out the top five.
Pole-sitter Matt Kenseth led all 100 laps en route to claiming the Stage 1 win, and 163 laps overall. A cut tire in Stage 3 ruined his day after he ran in the top five the first 320 laps, though, and he finished 23rd.
Keselowski took the Stage 2 win and by the middle of the final 200-lap stage, he remained in the mix up front with Hamlin and Harvick.
With 114 to go, Keselowski passed Hamlin to regain the lead for the third time in the race.
With 57 to go, Jimmie Johnson inexplicably went up the racetrack in his No. 48 Chevrolet and slammed the No. 88 of his teammate, Dale Earnhardt Jr., into the outside wall.
I had no clue he was up there, an apologetic Johnson said over his team radio.
That brought out the caution and set up a restart with Ryan Newman starting on the front row alongside Keselowski, who quickly grabbed the lead again. Newman had cycled into the lead by gambling and staying out while others pitted, and then catching a break when the Johnson-Earnhardt incident brought out, for Newman, a very timely caution.
It took less than one full lap for rookie Erik Jones to run into trouble when he made contact with the No. 5 Hendrick Chevy of Kasey Kahne. Just three laps later, the left-front tire on Jones car failed, throwing his No. 77 Furniture Row Racing Toyota into the wall.
Under NASCARs new damage rules, because Jones couldnt drive his Toyota back to pit road, he was officially out of the race. He finished last in the 38-car field.
I got ran right into the wall (by Kahne) on Lap 1, said Jones. Its really unfortunate. We made three laps or whatever and now were loading up the car and going home.
Logano, meanwhile, kept right on coming from the back of the field until there was no one left to pass.
He earned his first Monster Energy NASCAR Cup Series win of the season, and the 18th of his career in his 300th start.