Jiu-jitsu athlete says Rio police kidnapped him, forced him to take out money from ATM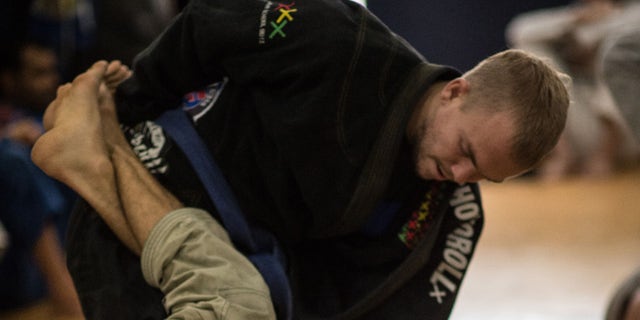 NEWYou can now listen to Fox News articles!
A New Zealand jiu-jitsu athlete living in Rio de Janeiro claims he was kidnapped by the state's Military Police over the weekend at gun point and forced to withdraw money from two ATMs.
Jason Lee, who has been living in Brazil for about 10 months according to the BBC, took to Twitter on Sunday after his ordeal. It's less than two weeks till the start of the 2016 Olympic Games.
"What did you guys get up to yesterday? I got kidnapped. Go Olympics!" he wrote.
His girlfriend, Laura McQuillian, a journalist covering the games, added some more details on her Twitter account.
"Boyfriend was accosted by Policia Militar cops who drove him to two ATMs and forced him to withdraw cash," she wrote.
Lee, 27, told New Zealand outlet Stuff that he was detained after being pulled off a highway into the city and told he could not drive without his passport. The officer then told him to pay them 2,000 Brazilian reais (about $612) or he would be arrested.
When Lee said he didn't have that kind of cash on him, he was forced into an unmarked car to withdraw the money.
"These guys have pulled me over, they have weapons. I'm not in any position to negotiate," he said. "I don't think I've ever felt [before] like I could possibly die."
He said that he sent several messages to McQuillian via WhatsApp and dropped a GPS pin to his location, but also felt hesitant to do anything else on his phone.
After giving them the money, Lee was released. He said one of the officers warned him against reporting the incident.
"He said 'you can't say anything to anyone about this, not a word,'" Lee said, adding that he told Tourist Police about the incident that night.
On Monday, he took to Twitter to give an update about the situation.
"Policia Militar have shown up at my apartment unannounced. I have refused them access, called my embassy and we are waiting for Civil Police," he wrote. "I was assured by civil police that by making a statement, my personal information could not be accessed by Policia Militar."
Adding: "Locked in our apartment awaiting advice from the NZ ambassador. Policia Militar has now left. Awaiting arrival of Civil Police."
Lee is not in Rio as part of New Zealand's Olympic delegation because jiu-jitsu is not an Olympic sport.
Like us on Facebook
Follow us on Twitter & Instagram