Jimmie Johnson signs contract extension with Hendrick Motorsports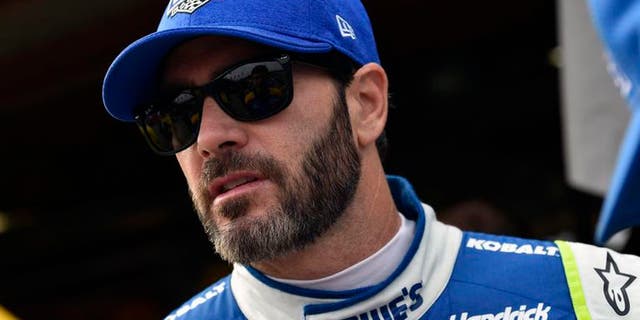 NEWYou can now listen to Fox News articles!
BROOKLYN, Mich. -- Jimmie Johnson and Hendrick Motorsports have agreed to a three-year contract extension, the organization announced Friday morning.
Johnson, 41, will continue to drive the No. 48 Chevrolet through 2020, which means he'll be 45 years old when the contract expires.
Friday morning at Michigan International Speedway, Johnson walked through his decision to sign a three-year deal.
"Ive said it many times, Im very content with where Im at in the race car and just truly enjoy competing and love being on the track," Johnson said. "So, to have a three-year extension makes me smile and makes me excited about the future and just cant wait to get in the car today and get out there and get to work.
In addition, Lowe's Companies, Inc. has agreed to extend their primary sponsorship of the team full-time through 2018.
Although his contract extension is scheduled to last longer than the continued partnership with Lowe's at this point in time, Johnson feels lucky to have had the same primary sponsorship for so long.
"We have come through so much together," Johnson said. "Clearly, Im not the one negotiating those contracts, its not really in my department. But, we do have them for 2018. I guess it would be 17 seasons together. I certainly would hope and think that it would go on further, but very excited to have a one-year contract with them now. Thirty-eight races at a full-time primary sponsorship is nothing to sneeze at.
With a team that was launched in 2001, Johnsonhas earned all seven championships and 83 career victories while driving the No. 48 and working with crew chief Chad Knaus.
After tying NASCAR Hall of Fame drivers Richard Petty and Dale Earnhardt with a seventh title last year, Johnson has earned three wins in the first 14 races of the 2017 season.