Jets RB Stacy breaks ankle on kickoff return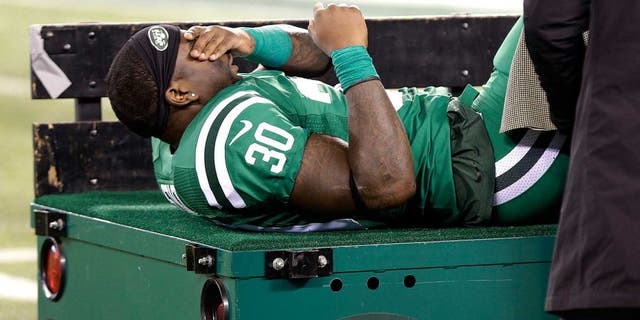 EAST RUTHERFORD, N.J.
New York Jets running back Zac Stacy suffered a broken ankle on the final play of the first half of Thursday night's 22-17 loss to the Buffalo Bills.
Stacy returned a kickoff 9 yards as time expired in the first half and was tackled by Jonathan Meeks. As the teams jogged off the field to head to their locker rooms, Stacy remained down and clutching at his left leg.
Team doctors ran onto the field to attend to Stacy and worked on his left ankle for a few minutes before helping him onto a cart and into the locker room.
Stacy was returning the kickoff after Devin Smith fumbled one earlier in the quarter that Duke Williams returned 19 yards for a touchdown for the Bills.
On the other side of the field, Bills defensive end Mario Williams spent most of the game sidelined with what the team called an illness. Bills head coach Rex Ryan said Williams was "sick as a dog" and needed an IV.
Bills linebacker Nigel Bradham left in the third quarter with a cut on his nose after his helmet flew off while tackling Ivory, but soon returned