Jerry Jones : No need for QB change heading into Patriots game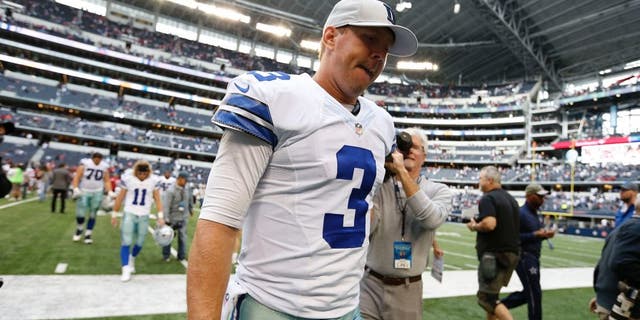 NEWYou can now listen to Fox News articles!
Nothing about the Cowboys' 26-20 loss to the Saints last weekend gives cause for concern about the Cowboys' quarterbacks, according to Jerry Jones.
The Cowboys owner/general manager did his regular radio interview with 105.3 The Fan FM on Tuesday morning, and he was asked -- among other things -- if Brandon Weeden was still his starting quarterback going forward.
"Nothing that he did in the game would warrant changing quarterbacks," Jones said.
That might seem a bit obvious, given Weeden's performance in New Orleans. He completed 16-of-26 passes for 245 yards and a touchdown -- with no turnovers. The highlight of his night came when he engineered a 91-yard scoring drive to tie the game in the final minutes.
The Cowboys did trade to acquire Matt Cassel, however, and the presence of an experienced starter on the sideline has prompted plenty of conversation about inserting him into the lineup. Jones didn't seem to entertain that conversation when asked about it, though.
"We didn't lose this game because of our quarterback play, in my mind," he said.
Having said that, Jones was not shy about pointing out the differences in quarterbacks in the game, with the Saints getting a start from an injury-hampered Drew Brees. The Pro Bowler completed 33-of-41 passes for 359 yards, and he moved the ball at will in the game's waning seconds and in overtime.
The Cowboys are up against a similar opponent this weekend when they welcome Tom Brady to AT&T Stadium.
"That guy on the other side of the line, Brees, was limited with a shoulder, but he knew how to basically pick us apart and take advantage of a tired defense," Jones said. "Those guys like that -- that have that kind of experience -- boy, they're rough in those kind of situations. The guy we're facing this weekend, same thing."
Dallas is desperately waiting to get their own Pro Bowler back to the lineup, as Tony Romo still has five games to go before he can return from short-term lineup. Jones was not hesitant to point out the drop off between Romo and Weeden in terms of quarterbacking performance.
"You've got to include Weeden in the reasons why we didn't win the game, but you don't have to in any way point the finger and say 'You don't have Romo, you have him,'" he said.
MORE FROM FOX SPORTS SOUTHWEST:
- PHOTOS: Cowboys Cheerleaders Auditions
- Ranking NFL quarterback salaries
- Highest paid player on every NFL team
- College football's biggest video boards