Jeff Gordon's thoughts on the Chase have evolved over time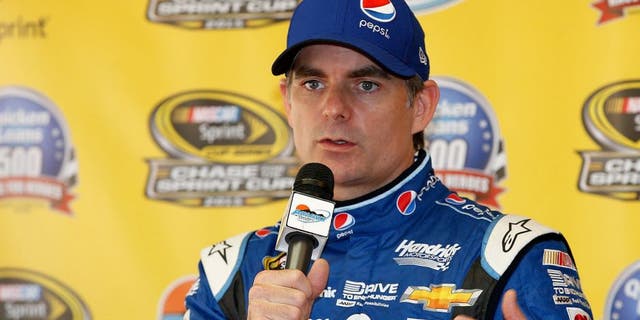 NEWYou can now listen to Fox News articles!
How radical was NASCAR's decision to abandon its traditional championship model for a 10-race playoff format starting in 2004? Radical enough for four-time Sprint Cup Series champion Jeff Gordon to literally laugh in the faces of NASCAR Chairman and CEO Brian France and Vice Chairman Mike Helton when first heard about it.
"The one thing that I will never forget is the moment that I was standing on the dock in Key West, Florida on a NASCAR boat trip with Brian France and Mike Helton," Gordon said Friday at Phoenix International Raceway. "And they told me what they were planning on doing with the Chase format and I laughed in their faces because I thought that was the most hilarious thing I have ever heard of. Because I thought it was a joke."
Oops.
"Then I quickly realized that was not a joke and I was pulling the laughs back into my mouth," Gordon said. "I was like, 'Are you serious?', and they said 'yes'. Of course I didn't like it. I felt like the (existing) point system was just fine for me."
Gordon won all four of his championships in the pre-Chase era and will race for a fifth title next week at Homestead-Miami Speedway.
But Gordon didn't want to speculate how many titles the Chase may have cost him.
"I don't think you can go back and look at accumulating points in the old system in the new system," he said. "Everybody races differently under each point system and does what it takes."
Still, a fifth title under the Chase elimination format would be something to cherish.
"That would be the ultimate, most poetic justice ever," Gordon said of the possibility of winning the Chase in this, his final year as a driver.