Jeff Gordon reveals his pick to prevail in the Chase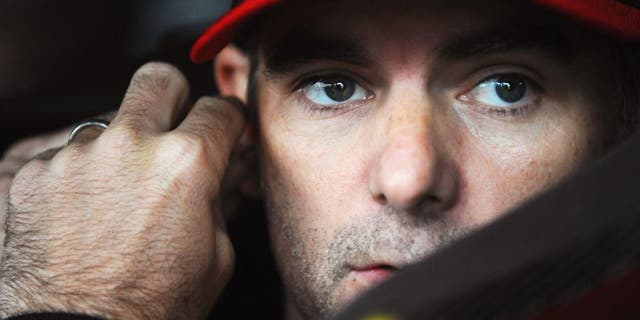 NEWYou can now listen to Fox News articles!
The good news for Jeff Gordon is that in this, his final season, he survived the opening three races of the Chase for the NASCAR Sprint Cup and is one of 12 drivers advancing to the Contender Round, which begins Saturday night at Charlotte Motor Speedway.
The bad news is two-fold: The pressure only gets worse from here, and the four-time NASCAR Sprint Cup Series champion doesn't have the fastest car right now.
With the current Chase favorites defending champion Kevin Harvick and the four-driver Joe Gibbs Racing armada, Gordon finds himself more under the radar than he otherwise might, a somewhat unusual state of affairs.
In fact, Gordon said Harvick is the clear favorite right now.
"There's no doubt that Kevin and Stewart-Haas (Racing), that combination has really shown to be very dominant," Gordon said during Tuesday's Contender Round Media Day at the NASCAR Hall of Fame in Uptown Charlotte, North Carolina. "What he did on Sunday was unbelievable."
Facing elimination if he didn't win, Harvick advanced to the Contender Round by leading 355 of 400 laps to take the victory at Dover International Speedway on Sunday.
"I will say, consistently every weekend, he's at the top of the board," Gordon said of Harvick. "He's the guy that everyone's measuring themselves off of. In all honesty, I think he's in a whole other category right now."
As for his own chances, Gordon and the entire Hendrick Motorsports team will have to step it up if they want to make a serious title run. Gordon is winless this season and teammate Dale Earnhardt Jr., the only other Hendrick driver among the final 12, hasn't led a lap since winning at Daytona in July.
Still, Gordon said he's glad to have made it this far.
"It's all bonus from here on out," said Gordon. "We haven't had the best year, but we've done a great job at fighting and overcoming things, and here we are. ... It's full-on reset. We came into this thing very far behind in bonus points, and now we're on an even playing field."
Despite Harvick's obvious speed advantage, Gordon said he can win a championship.
"Absolutely," he said. "We can't really be focused on them (Harvick's team) and worried about trying to beat them on speed. They seem to have everybody covered in that sense and doing it week in and week out. But they've shown that for all that strength, you can have weaknesses as well.
"All we can do is play to our strengths," Gordon said. "Do what it is that we do well, which is consistency, steadily improving. We've really been focused on getting more solid pit stops. I think that's coming around as well. ... You get us to Homestead (for the winner-take-all Championship Race) and we can be a big threat."