Jay Gruden says they will still use DeSean Jackson for punt returns despite costly fumble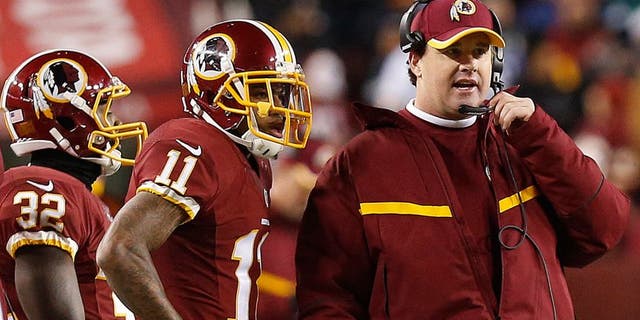 NEWYou can now listen to Fox News articles!
With the score tied late in the fourth quarter on Monday Night against the Dallas Cowboys, Washington Redskins' turned to DeSean Jackson to return the punt.
DeSean Jackson fielded the punt, proceeded to run in about every single possible direction, including 20 yards backwards and fumbled the ball. It was an extremely costly mistake that may have cost the Redskins the win.
Most coaches would shun Jackson away from special teams as a returner, but not Redskins coach Jay Gruden. He recognizes Jackson as his go to guy, capable of converting a big play when the ball is in his hands.
"Any time we think there's a spark to be had, we'll put him back there," Gruden told the Washington Post's Liz Clarke on a conference call.
In theory, that certainly makes sense. Jackson is the fastest player the Redskins have in their arsenal, and throughout his career, he's always made the big play.
But most of those big plays for the Redskins have involved Jackson sprinting down the field for a pass. In fact, shortly after his fumble on his most recent punt return, Jackson went deep for a 28-yard touchdown, easily out-sprinting Cowboys corner Morris Claiborne.
Jackson used to be a fantastic punt returner. In his first three seasons of his career with the Philadelphia Eagles, Jackson fielded 99 punts for 1112 yards and four touchdowns. But Washington hasn't used Jackson as a punt returner all that often. In his 21 games as a Redskin, Jackson has returned three punts for -5 yards.
Washington has primarily used rookie Jamison Crowder as their punt returner this year. Crowder has returned 22 punts for 130 yards. That's 5.9 yards per return. That's well behind NFL-leader Darren Sproles' 12.9 yards per return average this season.
Crowder hasn't proven that he can be a top punt returner just yet. And while Jackson, who just turned 29 last week, likely won't replicate his punt return numbers he had as a 22 and 23-year-old, he can still likely give the Redskins a chance at a big play.
It seems asinine for Gruden to trust Jackson after his bonehead punt return against the Cowboys. But Jackson is still one of the better playmakers on the team, and he is definitely one of the fastest. So it would be foolish to judge Jackson by his second return of his season. He's proven before he is capable of a big return. So if Gruden wants to use Jackson in spot situations on the punt return, it may end up proving to be a right decision.