Jay Bruce insists slumping Mets haven't reached 'Oh, [expletive]' levels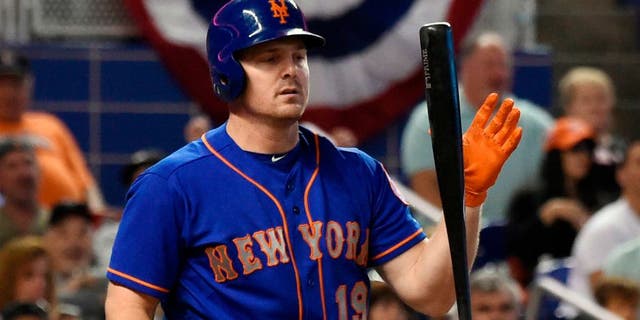 NEWYou can now listen to Fox News articles!
The Mets are banged-up, in an offensive funk and sinking in the NL East thanks to a four-game losing streak. But Jay Bruce one of the teams few productive hitters isnt about to give up hope.
Its easy to push the panic button, its easy to say, Oh, [expletive] but we are too good for that, Bruce said, via the New York Post. We are a legitimate World Series contender, I believe, and I wouldnt just say that. This is a team that is stacked. We just have to be healthy and play well.
After a tough debut in New York last summer, Bruce is off to a strong start (.271/.354/.557 with six homers) this season. However, the team's offense as a group is mired in a monstrous slump. The Mets rank 29th in the majors in batting average (.210), 27th in on-base percentage (.288) and 21st in slugging percentage (.380). Perhaps the only positive is that they rank second with 29 homers.
While much of the Mets' concern about injuries coming into the season focused on the rotation, lineup regulars Yoenis Cespedes (hamstring), Lucas Duda (elbow), Travis dArnaud (hand) and Wilmer Flores (knee) are day-to-day or on the disabled list. And David Wright (shoulder) has yet to play at all.
The saving grace is that its still very early. But after losing eight of their past nine games and seemingly a player per game to injury there is plenty of cause for concern.