Jason Pierre-Paul says he'll be better than ever soon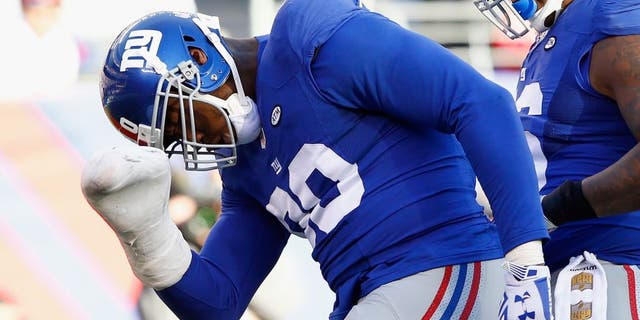 A mangled hand from a fireworks accident hampered Jason Pierre-Paul's season last year, but he says he's well on his way to becoming even better than he was before the injury.
The New York Giants defensive end believes he's already as good as he was before losing his right index finger and parts of two other fingers.
"I am the player I used to be. Just a couple injuries here and there, but I'm all right. I'll be better than I was," Pierre-Paul said from Giants minicamp Tuesday, according to ESPN.
Pierre-Paul, who played with a protective club on the hand in the eight games after his return last season, had offseason surgery to improve the function of the hand and says he'll wear a special glove on it instead this season.
"I knew I was going to need surgery after the season -- that's the reason I played with the club. But now, I'm past that. I'm looking forward, and I'm hitting the bags normal, I'm grabbing normal -- I'm not even limited, so it's a straight shot from here," he said Tuesday.
In his limited action last season, Pierre-Paul, 27, registered just one sack after notching 12.5 the year before. He signed a one-year deal to return to the Giants this season.
Earlier this offseason, he gave his account of the accident in hopes of putting questions about it behind him.