Jarryd Hayne explains why he chose rugby over the 49ers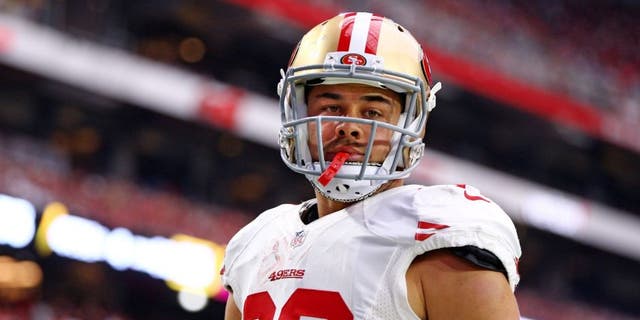 NEWYou can now listen to Fox News articles!
Rugby star Jarryd Hayne overcame a tremendous learning curve to make the San Francisco 49ers' roster last season -- only to retire and return to rugby a month ago.
Hayne's departure from the 49ers brought statements of thanks from both the team and the player, but the only explanation given was that he wanted to play rugby for Fiji in this summer's Rio Olympics.
Now we know a little more. Earlier this week, the ex-running back told Fairfax Media in Australia the biggest reason for the change of heart was new 49ers coach Chip Kelly's massive playbook.
"I just think with Chip's playbook, it's such an intense playbook that it would just take too much time. Me not having that college history, I think a lot of the guys adapt to it a lot faster because they've had the college playbooks ... I was always behind the nine-ball just learning in general. The guys playing in college were just that far ahead.
"That was the biggest thing, just knowing and wishing I had a couple of more years up my sleeve. If I had a couple more years up my sleeve, 100 percent I know what player I could have been. But time is of the essence, and now I'm on to my next adventure and it's brought me to Fiji."
Hayne is 28 and needed to make a strong commitment to one of the two sports. He played mostly special teams in 2015, rushing just 17 times for 52 cards and catching six passes for 27 yards in eight games.
"It was hard at the 49ers. With the new coaching staff and the guys that really put the study and that in -- it all changed. It was tough, but I worked hard and made the 90-man squad. That meant I'll be back in preseason, but time isn't on my side. I had to make a decision and being in Fiji was it."