Jared Cannonier explains why he's not ready to give up his full-time job for the UFC yet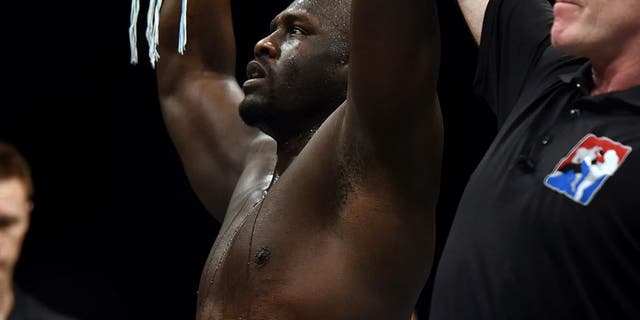 NEWYou can now listen to Fox News articles!
Jared Cannonier didn't hesitate for a second when the UFC called to offer him a fight against No. 3 ranked light heavyweight contender Glover Teixeira except for one small hiccup.
He had to make sure he could take the time off work.
While Cannonier is considered one of the top prospects in the 205-pound division, the 32-year-old veteran still works a full-time job as an airway transportation specialist at the FAA and he's not looking to give up that employment any time soon despite his current career in the UFC.
"You do what you've got to do. I'm a grown man and I've got a family to take care of. A full time job to financially take care of my family," Cannonier explained when speaking to FOX Sports. "I just started fighting in the UFC and I just started making money. I've got to have something to supplement that and I have to be able to take care of my responsibilities. I'm not going to let anybody else to do it for me. God has blessed me with a wonderful family and a wonderful career with the FAA. I can't just throw it away on a whim thinking I'm going to be the next big thing because anything can happen in there.
"I can't put all my eggs in one basket. I have to plan carefully."
Most fighters who make it to the UFC will usually start looking for an exit plan from a full-time job to focus on a career in mixed martial arts, but Cannonier isn't ready to make that jump just yet.
Cannonier has actually earned $100,000 in bonuses from his last two fights in the UFC and that money is certainly a huge help towards moving him towards becoming a full-time fighter, but he's still being cautious because he can't predict the future and his family still needs to be provided for whether he's competing or not.
A win over Teixeira on Saturday in Brooklyn could rocket Cannonier into the top five of the light heavyweight division and possibly only a fight or two away from title contention.
If everything goes well at UFC 208, Cannonier may consider his fighting career as a full-time job but he's not ready to take that step just yet.
"This could eventually lead to me being a full time fighter. Because I still work a full time job, I have a family and I don't get to go to the gym three times a day, but I manage," Cannonier said. "I'm able to get to the gym at least twice a day and I still have my other duties.
"This is a big opportunity to make some cash and start planning for an early retirement, which is always the goal."
It might sound funny to hear an up and coming prospect with a chance to jump into the top five of a division already talking about retirement, but Cannonier is definitely one person planning ahead for that in his future.
Cannonier will walk into UFC 208 as a very sizable underdog to Teixeira so a win could send a massive statement to the light heavyweight division that he's gunning for anybody at the top.
Instead, Cannonier hopes a victory over Teixeira will earn him another bonus to add a few more zeroes to his bank account as he works towards an exit plan so his family has financial security for years to come.
"Glover's No. 3 in the world, there's a reason he's up there and doing things. He's dangerous. He's a scary striker. He's a [Brazilian jiu-jitsu] black belt, he's got wrestling and I'm a fan of his actually. I really like the way he throws his hands. But still it's not going to deter me from fighting. I'm a fighter before I'm a mixed martial artist to be honest. I have my skills, he has his skills, we're going to put it on the table and the fans are going to love it," Cannonier said. "That's automatic and hopefully we can get some more bonuses."
"I'm not trying to send any statements. I'm here to fight. I'm just going to focus on the guy in front of me. Everything else will fall into place. As long as I keep winning, that's closer I get to retirement."