Jan. 1 bowl games: Outback, Citrus, Fiesta, Rose and Sugar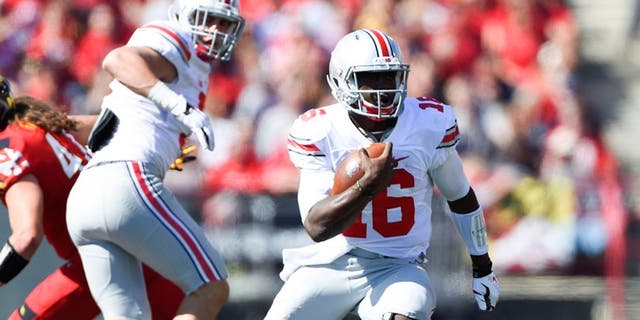 Previewing the Jan. 1 bowl games featuring some of best matchups of the entire bowl season and the biggest names in college football.

Outback Bowl
Matchup: Northwestern-Tennessee
Kickoff Time: Noon ET
Vegas odds: Tennessee minus-9
Players to watch
Northwestern: RB Justin Jackson, 1,344 yards and four touchdowns; LB Anthony Walker, 19.5 tackles for loss and 113 tackles.
Tennessee: RB Jalen Hurd, 1,158 yards and 11 touchdowns; QB Joshua Dobbs, 2,125 yards passing and 15 touchdowns, 623 yards rushing and nine touchdowns.
Notable
Northwestern: The Wildcats have given up 20 or fewer points in nine of their 12 games and the team is ranked No. 11 in total defense. … Northwestern is aiming for win No. 11 … The Wildcats have won five straight.
Tennessee: The Vols have lost five of their past eight bowl games … Tennessee is making its 51st all-time bowl appearance, the third most in college football history … The Vols have lost four games this season by a total of 17 points … The Vols are trying to use the Outback Bowl as a spark for what should be a promising 2016 season.
Citrus Bowl
Matchup: Michigan-Florida
Kickoff Time: 1 p.m. ET
Vegas odds: Michigan minus-4
Players to watch:
Michigan: DB Jabrill Peppers, 45 tackles and two rushing touchdowns; QB Jake Rudock, 2,739 yards and 17 touchdowns.
Florida: DB Vernon Hargreaves III, four interceptions and 31 tackles; RB Kelvin Taylor, 985 yards and 13 touchdowns.
Notable
Michigan: The Wolverines are seeking to finish off a fantastic first year under head coach Jim Harbaugh with their 10th win of the season … Michigan has won the Citrus Bowl three times in four trips … The Michigan defense is ranked No. 4 in the nation.
Florida: Despite losing the SEC Championship to Alabama, the Gators have had a strong season under first year coach Jim McElwain … The Gators can win their 11th game … The Florida defense is ranked No. 6 in the country.
BattleFrog Fiesta Bowl
Matchup: Ohio State-Notre Dame
Kickoff Time: 1 p.m. ET
Vegas odds: Ohio State minus-5
Players to watch
Ohio State: RB Ezekiel Elliott, 1,672 yards and 19 touchdowns; DE Joey Bosa, five sacks and 16 tackles for loss.
Notre Dame: QB DeShone Kizer, 2,596 yards and 19 touchdowns; WR Will Fuller, 1,145 yards and 13 touchdowns.
Notable
Ohio State: Ohio State will not have a chance to defend its national title; however, the team is searching for its 12th … Running back Ezekiel Elliott will play despite receiving a citation for driving with a suspended license following a minor car crash in December … QB Cardale Jones declared for the NFL Draf. J.T. Barrett will start at QB for the Buckeyes.
Notre Dame: Notre Dame safety Max Redfield was sent home by head coach Brian Kelly for violating team rules … Notre Dame is seeking its third consecutive bowl victory … Ohio State and Notre Dame have met five times and the Buckeyes hold a 3-2 advantage.
The Rose Bowl
Matchup: Stanford-Iowa
Kickoff Time: 5 p.m. ET
Vegas odds: Stanford minus-6.5
Players to watch
Stanford: RB Christian McCaffrey, 3,496 all-purpose yards (NCAA record) and 13 total touchdowns; QB Kevin Hogan, 2,644 yards and 24 touchdowns.
Iowa: DB Desmond King, eight interceptions and 67 tackles; RB Jordan Canzeri, 976 yards and 12 touchdowns.
Notable
Stanford: Stanford just missed out on the College Football Playoff after winning its third Pac-12 title in four years … McCaffrey is the most dynamic player in college football and finished second in the Heisman Trophy voting after breaking Barry Sanders' single-season record for all-purpose yards (3,496) … Stanford is playing in its third Rose Bowl in four years (1-1).
Iowa: The Hawkeyes are searching for their 13th win after finishing the regular season with a 12-0 record before losing the Big Ten title at the last second to Michigan State … Iowa will be playing in its sixth Rose Bowl with a 2-3 record in the Granddaddy Of Them All … No Big Ten team has more bowl wins or a higher bowl game winning percentage since 2001 than Iowa.
Sugar Bowl
Matchup: Oklahoma State-Ole Miss
Kickoff Time: 8:30 p.m. ET
Vegas odds: Ole Miss minus-7
Players to watch
Oklahoma State: DL Emmanuel Ogbah, 13 sacks and 17.5 tackles for loss; QB J.W. Walsh, 663 yards and 13 touchdowns; QB Mason Rudolph, 3,591 yards and 21 touchdowns.
Ole Miss: WR Laquon Treadwell, 1,082 yards and eight touchdowns; QB Chad Kelly, 3,740 yards and 27 touchdowns.
Notable
Oklahoma State: Head coach Mike Gundy hasn't revealed whether QB J.W. Walsh or Mason Rudolph will start in the Sugar Bowl. Rudolph only played three snaps in the season finale against Oklahoma on Nov. 28 and underwent surgery to repair a fracture in his foot after the game. Rudolph will be available for the Sugar Bowl … The Cowboys started the season 10-0 but have dropped their past two games to Baylor and Oklahoma.
Ole Miss: The Rebels will be without both Denzel and Robert Nkemdichel, huge losses … Ole Miss is looking for its first 10-win season since 2003 … The Rebels will be playing in their ninth Sugar Bowl; however, they have not been to the Sugar Bowl since 1969.