Jamie McMurray 'just wanted to survive' the GEICO 500 at Talladega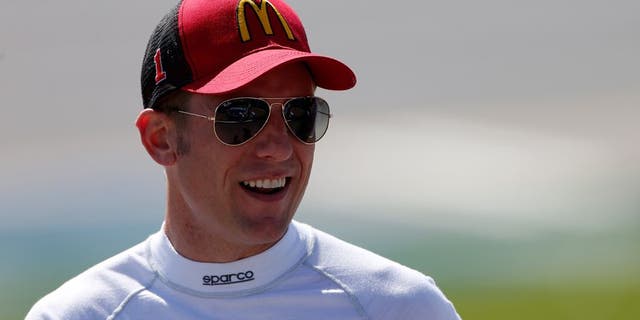 Throughout his career, Jamie McMurray has excelled at NASCARs biggest tracks with four of his seven career victories coming at restrictor-plate races.
He nearly added No. 5 on Sunday in the GEICO 500 at Talladega Superspeedway.
On the backstretch of the final lap of overtime, McMurray made a power move to split Kyle Busch and Jimmie Johnson and charge from fourth to the back bumper of Ricky Stenhouse Jr. to battle for the race lead.
The move put McMurray on the verge of his third Talladega victory but he didnt get an extra push from behind to get by Stenhouse and instead held off Busch for asecond-place finish.
I mean its really circumstantial as to what the guys do in front of you and what is happening behind you. I just got a run at the right time, McMurray said. I thought the No. 17 (Ricky Stenhouse, Jr.) was going to get a little bit further out, but when we were coming to the line it just seemed like his car wasnt going at that point, so it was a good finish. It was a great race.
McMurray scored his best finish at Talladega since he won his last Monster Energy Series race at the track in the fall of 2013.
The Chip Ganassi Racing No. 1 team has brought competitive Chevrolets to the track each week which has McMurray confident that he can score a victory outside of the handful of tracks he usually excels on.
This has been a really good track for me and I havent been able to finish here the last couple of years, so really happy with that, McMurray said in his post-race interview. We had good pit stops. Matt (McCall, crew chief) did a great job calling the race. The guys are building really good cars. You know, its interesting because in years past I feel like this is always a track that you thought you could win at and gain great points. And we have run so well at so many tracks this year, this was a track that I just wanted to survive at so we could get to another track and race.
Through 10 races, McMurray sits sixth in the points standings with six top-10 finishes and the best average finish of his career (13.2).
Hes still looking for his first playoff points of the season but has scored the seventh-most stages points (69). Outside of restrictor-plate tracks, McMurray has two wins at Charlotte Motor Speedway, where the Cup Series will compete in the Coca-Cola 600 in three weeks after heading to his home track of Kansas Speedway this weekend.