Jaguars select 2015 team captains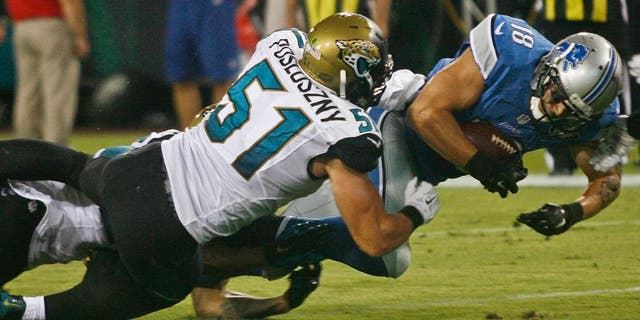 Four the fourth straight season, Jacksonville Jaguars linebacker Paul Posluszny has been chosen by his teammates to serve as a team captain.
Posluszny, who missed the last nine games of the 2014 season with a torn pectoral muscle, was chosen as defensive captain. Quarterback Blake Bortles and tight end Marcedes Lewis were chosen as offensive captains, while punter Brian Anger was named special teams captain.
The captains were determined by a vote among the Jacksonville players.
"It's an honor,'' Posluszny said, per Vito Stellino of the Florida Times-Union. "It's very special because you know your teammates support you and they believe in you."
Posluszny, who is entering his fifth season with Jacksonville, signed with the team as a free agent in 2011.
"What a great opportunity for these guys for the players to show the respect the players have for them and they know they can count on them in the good times and bad,'' head coach Gus Bradley said. "There's a certain responsibility that comes with this. Like I told the team, everybody is going to be a big part of this."
(h/t Florida Times-Union)