Jaguars hoping short week puts Mariota, Titans at a disadvantage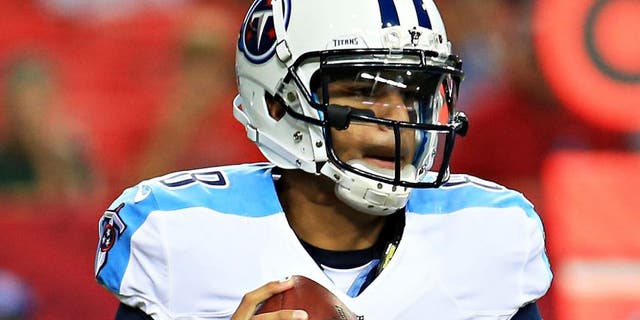 ATLANTA, GA - AUGUST 14: Marcus Mariota #8 of the Tennessee Titans rolls out on a pass play in the first half of a preseason game against the Atlanta Falcons at the Georgia Dome on August 14, 2015 in Atlanta, Georgia. (Photo by Daniel Shirey/Getty Images) Daniel Shirey Getty Images
Thursday night's game between the Tennessee Titans and Jacksonville Jaguars means a short week of preparation for both teams. But the Jaguars are hoping the quick turnaround will play in their favor when it comes to the Titans' rookie quarterback.

Tennessee's Marcus Mariota has started seven games this season, but Thursday night's matchup will be his first with only four days to prepare.

It's something the Jaguars dealt with last year with Blake Bortles, who struggled in a Thursday night-matchup against the Pittsburgh Steelers.

Jacksonville offensive coordinator Greg Olson, who held the same position with Oakland a season ago, also had a similar experience getting then-rookie Derek Carr up to speed for a Thursday night game last year.

"I think every week for a rookie is challenging," Olson said, per the Florida Times-Union. "For him, to only have the window that he has to get prepared (is a challenge). Certainly, it's difficult for any player, but certainly more difficult for a rookie."


Still, whether the short week impacts Mariota or not, the Jaguars know the former Heisman Trophy winner has demonstrated plenty of talent this season. The No. 2 overall pick in the 2015 draft has thrown 13 touchdowns while completing 65.6 percent of his passes.

"Mariota has a quick release," Jacksonville linebacker Telvin Smith said. "That's something you have to watch for. He has a target in (tight end Delanie) Walker and the offensive coordinator does a good job putting him in the right position. He's also a mobile guy so you have to watch out for that."
MORE NEWS: Want stories delivered to you? Sign up for our NFL newsletters.