Jacksonville Jaguars at Detroit Lions game preview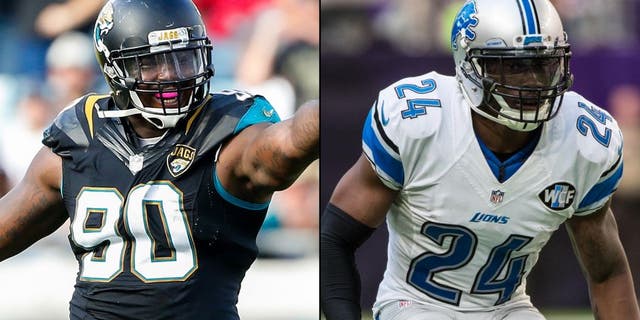 TV: CBS
Time: Sunday, 1 p.m.
DETROIT -- The Detroit Lions have done a very good job at protecting the football and staging late-game rallies. The Jacksonville Jaguars have been woeful in both of those categories.
That's why the Lions are tied for first place in the NFC North and the Jaguars are wallowing at the bottom of the AFC South.
Detroit (5-4) will try to maintain at least a share of its division lead when it hosts Jacksonville (2-7) on Sunday at Ford Field.
Quarterback Matthew Stafford has engineered fourth-quarter comebacks in all of the Lions' wins. They stunned Minnesota 22-16 in overtime in their last game on Nov. 6 after the Vikings grabbed the lead with 23 seconds remaining. A long pass play set up a tying 58-yard field goal by Matt Prater, and Stafford's 28-yard scoring pass to Golden Tate on the first possession of overtime finished off the latest comeback.
Detroit tied for the division lead without breaking a sweat last weekend, as Minnesota lost to Washington. But the Lions have not won a division title since 2013, and Stafford is quick to temper rising expectations.
"You start to see some of the separation in November and December with these teams," he said. "If you look at the big picture, it can be overwhelming. You just have to go week to week. That's what I would tell our young guys -- don't look ahead."
Another message he'll like to convey: don't lose your grip on the ball. The Lions have committed just six turnovers and Stafford has a solid 18-5 touchdown-to-interception ratio while completing 67.3 percent of his throws.
"I'm just trying to make the best decisions I possibly can," he said. "I'm not going to be perfect with it. I wish I had thrown that ball away a little better two weeks ago (on an interception at Minnesota).
"There's still things I have to clean up but our guys have done a really nice job of fighting for the ball if it's contested and a really nice job of running with the proper leverage and holding onto the ball securely. All that kind of stuff is key."
It has been even more essential since Detroit's defense has only generated seven takeaways. The Lions finished 26th in turnover margin last season.
"That's obviously always something you stress," Lions head coach Jim Caldwell said. "Sometimes there are tipped balls and things of that nature, but I still think you can keep it to a minimum. I think our guys are doing a good job of taking care of the ball right now, but that's a week-to-week thing, a week-to-week battle."
The Jaguars have consistently lost that battle, ranking at the bottom of the league with a minus-14 turnover margin. Quarterback Blake Bortles has been picked off 11 times and they've also lost eight fumbles.
Jacksonville carries a four-game losing streak to Detroit. The Jaguars have come close the past two weeks, falling to Kansas City 19-14 and Houston 24-21.
"It all boils down to turnovers," Bortles said. "That's what we've talked about. These past two weeks, we've gotten better in the areas we wanted to, and it's all come down to the turnovers and winning the turnover battle. That's kind of where our focus is now.
"There's a lot of good things we've done the past two weeks that have been overshadowed by not winning the game. Ultimately, we all know that's our goal and we've got to cut down on the turnovers."
Embattled head coach Gus Bradley is trying to keep his team from dwelling on how its season has fallen apart.
"You try not to look back too much," he said. "That can be dangerous and a waste of time. You need every minute of every day to prepare for the next opponent."
The matchup Sunday will likely be decided through the air. Neither team has a running back that has rushed for 300 yards this season.
Bortles has shouldered much of the blame for Jacksonville's failures, but Caldwell is well aware that the third-year quarterback has thrown 51 touchdown passes in the past two seasons.
"He's a fine young quarterback," Caldwell said. "I think our expectations sometimes are a little bit out of whack."