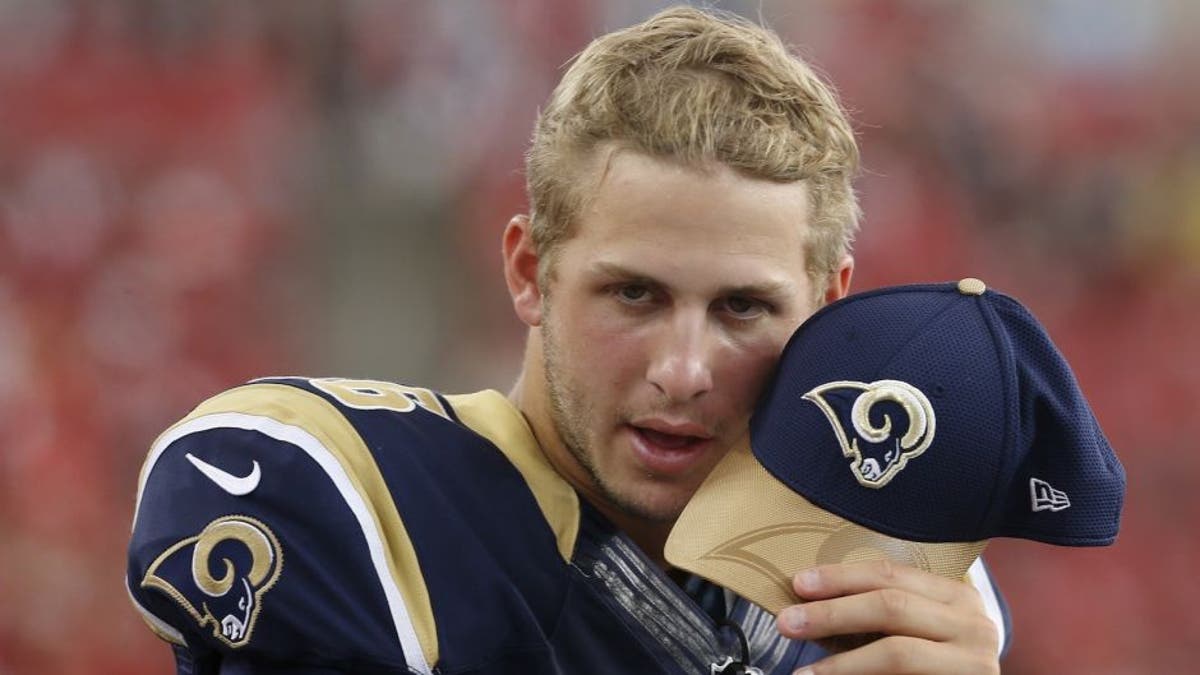 Following an embarrassing loss to the New York Giants, the Rams had a long flight home to Los Angeles from across the pond in London. During that flight, the team had a lot of time to think about their future and their past deficiencies.
One position that almost certainly popped into Jeff Fisher's mind is quarterback after watching Case Keenum throw four interceptions against the Giants, and seven in his last three games. Will Keenum's terrible play of late lead Fisher to make a change at quarterback? Not right now, but he could be leaning that way in the coming weeks.
"I've not changed my mindset whatsoever with respect to Case and Jared," Fisher said, via the team's official site.
Fisher did say that Goff is going to get reps with the first-team offense this week and next while the Rams are enjoying the bye.
"Jared's going to get some reps, which is a byproduct of the bye week," Fisher said. "I don't feel like Case needs the reps Wednesday and early next week, so Jared will get those reps, which is good."
The coach's stubbornness with regard to Goff has been frustrating for Rams fans who simply want to see the No. 1 overall pick in action after watching Keenum implode in recent weeks. There's no telling when Goff will supplant Keenum, but it will happen at some point.
"Jared's going to be our starter, but we're just going to continue with Case," Fisher added.
Keenum has had a few bright spots, leading the Rams to three straight wins after a blowout loss to the 49ers in Week 1. However, he's also lost three in a row, though it wasn't completely his doing.
"We won three straight games with him. And, yes, I understand we've lost three straight. But the quarterback position, in my opinion, is not the reason we lost the football games -- and nor was it yesterday," Fisher said. "At first glance if you look, [you say], 'Oh, he threw four interceptions.' So you look at the actual plays, as you guys know -- interceptions you can place blame wherever you want."
Knowing the lack of talent Los Angeles has on offense and Keenum's struggles of late, it's hard to imagine the Rams sticking with him for the remainder of the season. After all, no one expects them to win a Super Bowl with Keenum under center. Fisher ultimately makes the final call in that department, but the calls for Goff are already beginning for fans.