How Michigan's success under Jim Harbaugh can be traced to Brady Hoke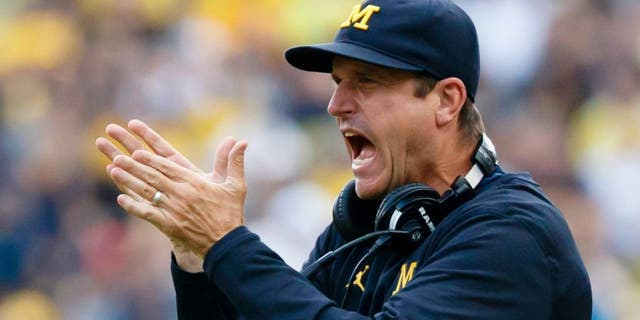 Brady Hoke's 2013 recruiting class at Michigan was ranked No. 2 by Scout, No. 7 by 247 Sports, No. 5 by Rivals and No. 6 by ESPN. Turns out, those projections were pretty shrewd.
Among the signees who have blossomed into the nucleus of what is Jim Harbaugh's No. 3 team in the nation are senior starters Jourdan Lewis, an All-American CB; TE Jake Butt, the team's second-leading receiver; LB Ben Gedeon, the team's leading tackler; LB Mike McCray, the team's third-leading tackler; DB Dymonte Thomas, the team's fourth-leading tackler; DB Delano Hill; FB Henry Poggi; and CB Channing Stribling, the guy who is second in the Big Ten in interceptions. That's almost half of the starters on this Wolverines team.
In all, the Wolverines have 18 senior starters when you include all their fifth-year guys from the 2012 class (also a consensus Top 10 ranked class). Every starter on the Michigan defense, save for junior LB/DB Jabrill Peppers, is a senior. Harbaugh's team has a staggering 41 seniors on the roster, making this group arguably the most mature team in college football. The Wolverines' recruiting rankings include two "five-star" prospects and 14 "four-star" guys.
Through the first half of this season, seniors have accounted for 37.5 TFLs, 17.5 sacks and six INTs on what is the nation's No. 1-ranked defense. In addition, this senior crop has also accounted for two blocked kicks to go with 79 receptions for 976 yards and nine TDs.
Alabama, the nation's No. 1 team, has 22 seniors on its roster and nine are starters.
On the opposite end of the spectrum from Michigan, there is another Big Ten East team, Penn State -- a team still trying to dig out from the pits of NCAA sanctions. The Nittany Lions, 4-2, have just 12 seniors on their roster, 29 fewer than Michigan. Only four of those seniors are starters. Two on offense: guard Brian Gaia and tackle Paris Palmer, and two on defense: safety Malik Golden and DE Evan Schwan. The highest-ranked recruit among this class, the lone four-star senior on the roster, is Palmer, a former JC transfer from its 2015 class. The make-up of the rest of the senior class: four three-stars guys, four two-stars and three walk-ons.
The Nittany Lions' senior class hasn't produced even a single yard of offense in 2016. Defensively, it has accounted for 10 TFLs, 2.5 sacks and three INTs.