Homers bite Jake Odorizzi again, Rays fall to Red Sox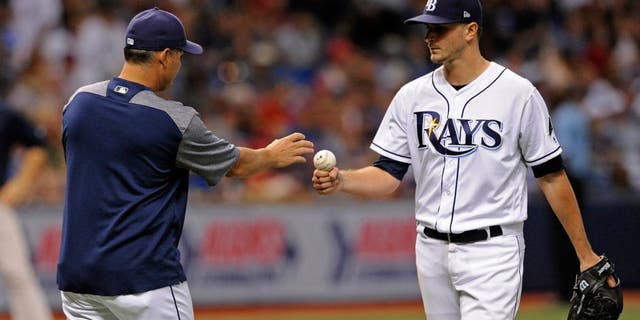 ST. PETERSBURG, Fla. (AP) -- Dustin Pedroia, Jackie Bradley Jr. and Hanley Ramirez all homered, Drew Pomeranz won his third consecutive start, and the Boston Red Sox beat the Tampa Bay Rays 8-3 on Friday night.
Pedroia hit a two-run shot during a four-run third, and Bradley Jr. had a fourth-inning solo drive off Jake Odorizzi (5-4) as Boston took a 5-0 lead.
Ramirez scored his 1,000th run on his ninth-inning solo homer.
Pomeranz (9-4) limited Tampa Bay to two runs over six innings despite allowing six hits and five walks.
Steven Souza Jr. hit a solo homer in the seventh for the Rays, who beat Chris Sale and the AL East-leading Red Sox 4-1 in the opener of a four-game series Thursday night. The Rays, third in the division, trail Boston by 5 1/2 games.
Odorizzi gave up seven runs and eight hits in 4 1/3 innings. He has allowed a homer in 13 consecutive appearances, which ties Jesse Chavez of the Los Angeles Angels for the longest streak in the majors this season.
Wilson Ramos got his 10th RBI over his last six games on a double and Brad Miller added a run-scoring single in the fourth as the Rays got within 5-2.
Miller, reinstated from the 10-day disabled list after missing 27 games with a right hip injury, had two hits and drew two walks.
The Rays had runners on second and third with one out in the second but ran themselves out of the inning after Mallex Smith bunted. Ramos was thrown out retreating to third base before Miller was tagged out during a rundown between second and third.
The Rays loaded the bases with one out in the fifth but failed to score when third baseman Deven Marrero made a nice back-hand grab of Ramos' hard one-hopper to start a double play.
TRAINER'S ROOM
Red Sox: SS Xander Bogaerts, hit on the right hand by a pitched ball Thursday, didn't play but might return this weekend.
Rays: Manager Kevin Cash (broken left foot) is no longer using crutches. … INF Tim Beckham (left ankle) went on the 10-day disabled list.
MULTI-TASKING
Rays first-round draft pick Brendan McKay will be a starting pitcher, DH and first baseman for Class A Hudson Valley. "The other day we sat down and mapped out a schedule," McKay said. "Their willingness to do it shows a lot." McKay received a signing bonus of $7,005,000.
ALL-STAR ADD
Rays RHP Chris Archer was added to the AL All-Star team and is looking forward to another All-Star moment with his parents. "Making my parents smile is one of my main motivations," Archer said. "The last one (in 2015), I was standing next to Felix Hernandez and my name was called. I looked at parents' faces. I want to make that happen again."
UP NEXT
Red Sox RHP Rick Porcello (4-10) and Rays RHP Alex Cobb (6-6) are Saturday's starters.