High school teammates join the Aztecs' secondary, set lofty goals for 2017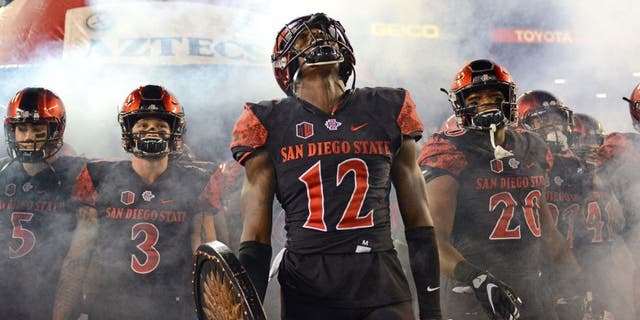 Former Rancho Cucamonga High School cornerbacks Darren Hall and Tayari Venable put on a show in the Cougars' secondary, finishing their high school careers as consensus three-star recruits by ESPN, 247Sports, Rivals and Scout.
The show isn't over.
Hall and Venable will continue to look the part of a perfect pairing in San Diego State's secondary starting in 2017, as both cornerbacks signed with Aztecs this offseason.
With Rancho Cucamonga, Hall and Venable combined for 209 tackles and 38 passes defensed en route to being named the 17th and 18th best cornerbacks in California by Scout, respectively.
Hall, however, didn't see Scout's ranking as a compliment.
In addition to his ability in both man and zone coverage, Hall takes pride in remaining stout against the run, which bodes well for him finding a spot in the Aztecs' physical defense.
"Playing the run is an important part of my game," Hall said. "I'm not scared to come down and tackle running backs near the line of scrimmage."
Venable, like Hall, prioritizes stopping the run and making tackles near the line of scrimmage.
"You have to come down and be able to tackle," Venable said. "If you can't tackle, you can't play."
Hall declined offers from 12 other schools, including the University of Utah and the University of Colorado, to take his talents to the Mesa.
Venable followed suit, as he decommitted from Washington State to join forces with Hall at SDSU.
Venable also received offers from MW rivals Fresno State and the University of Hawaii, but he opted against said offers to help continue the Aztecs' winning tradition with Hall at his side before moving on to the next level.
"I want to win championships," Venable said. "Ultimately, I want to get to the College Football Playoff. I want to graduate with my degree. And then, the final thing will be to get into the league."
The two hope to establish their presence in the Aztecs' secondary early in their careers, as both cornerbacks have their sights set on earning snaps as freshmen in 2017.
"I'm working on trying to play my freshman year," Venable said. " I don't want to redshirt. I'm doing everything possible to contribute to the team."
To no surprise, Hall set the bar a little higher.
"I want to be Mountain West Freshman of the Year, Mountain west Defensive Player of the Year and surpass the legacy that [Damontae] Kazee has set in place," Hall said.
Filling former SDSU cornerback Damontae Kazee's shoes won't come easy, as he finished his career with back-to-back MW Defensive Player of the Year awards and 15 interceptions in his last two seasons.
Venable, however, praised Hall for his ability to be a playmaker in the secondary, hinting that no shoes are too big for Hall.
"He's a baller; he's a monster," Venable said. "He never gives up on the play. He's a ball-hawk always trying to get after it."
Whether Hall and Venable can live up to such high expectations is yet to be determined. Both cornerbacks will have their first opportunity to steal the show when the Aztecs' spring practice kicks off on February 27.