Here's the advice Marshawn Lynch gave Draymond Green during Game 5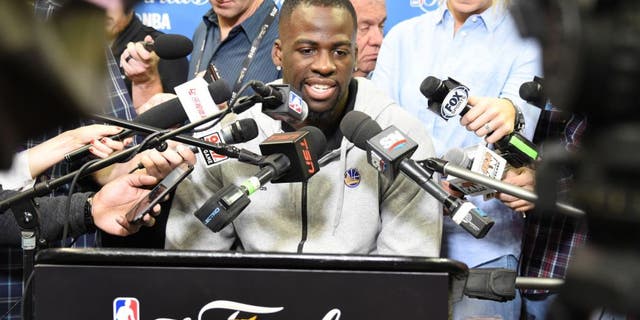 NEWYou can now listen to Fox News articles!
The NBA Finals resume tonight, with all the world wondering whether this is the evening that the Warriors take home a second straight title. We know chances are at least reasonably good that Golden State could have closed out the series on Monday if Draymond Green had played (at least he thinks so) but of course he was suspended and forced to watch the game from the A's game next door.
And while the Warriors lost, at least Draymond had the satisfaction of knowing he didn't have to watch the game alone, as he was joined by Warriors GM Bob Myers, as well as Marshawn Lynch, a former NFL star, and guy who --- just like Draymond --- had a run-in or two with his league's office back in his day.
That's right, Marshawn himself is no stranger to trouble, and as his suite-mate, used time during and after the game to dish out advice to Draymond.
Here is Green explaining what Marshawn told him, in Draymond's "NBA Finals Diary" which ran on ESPN Thursday morning:
"He was just telling me, 'I've been suspended on numerous occasions.' He was talking to me about cherishing these moments because you really realize how tough it is when they're taken from you, how you realize how people can change and all those things.
That's certainly some strong advice, and there's no doubt that Lynch speaks from a place of experience. After all, it "Beast Mode" who was left standing on the half inch line of Super Bowl 49, as Russell Wilson, quite literally threw away a shot at a time for the Seahawks. As Lynch said, these moments are fleeting, and it appears as though Draymond has learned not to take them for granted.
Speaking of which, Green added another interesting excerpt to his diary, when he explained what he said to his own Golden State teammates following the game.
"After the game, I told my guys, 'Way to battle.' We didn't play well, but we battled. I owe it to them to come back and be better. I apologized for not being there. I felt like in that sense I let my teammates down, because I couldn't be there to help do what we sought out to do the entire year. We sought out to win a championship and I couldn't help. So I just really apologized ... we got another crack at it. Let's go get Game 6.
That's right, Draymond Green and his teammates do get another 'crack at it' during Game 6 tonight.
Let's see if they can finish this thing out, or if the series will head back to Oracle Arena on Sunday.