Hawks restructure basketball operations, open search for new GM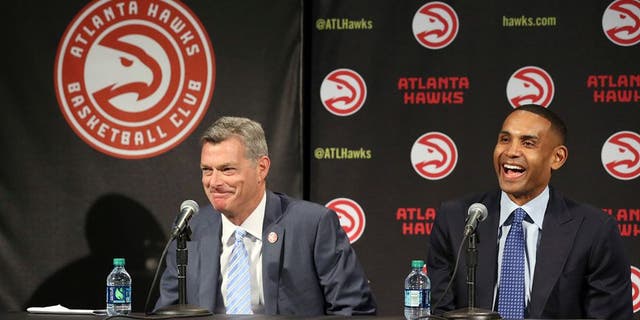 ATLANTA Mike Budenholzer and Wes Wilcox resigned from their respective positions as president of basketball operations and general manager for the Atlanta Hawks as the organization overhauls its front office, the team announced on Friday morning.
Budenholzer, the 2014-15 NBA Coach of the Year, will retain his duties as the franchises head coach for the fifth season. Wilcox will serve as special adviser to ownership.
Budenholzer, who was promoted to head of basketball operations following Danny Ferrys departure, will remain involved in personnel decisions.
As we have said from the beginning, we are committed to building the Atlanta Hawks into a championship-caliber team, and after the end of our season, it was clear to all of us that our basketball operations leadership needed this reorganization, Ressler said in a statement. With Bud moving his focus exclusively to his position as head coach, we are freeing him up to do what he does best as one of the most respected coaches in the NBA. As owners, we value Wes dedication, intellect and capabilities, however we believe that our leadership would be best served by recruiting a new general manager to bring our team to the level of play that we expect.
The ownership group will rely upon an executive search firm to find its next general manager.
Atlantas high-profile offseason resulted in a disappointing first-round exit in the playoffs at the hands of the Washington Wizards. As former centerpiece Al Horford left in free agency, joining the Boston Celtics, the front office traded starting point guard Jeff Teague handing over the keys to young floor general Dennis Schroder signed future Hall of Fame center Dwight Howard (three years, $70 million) and retained the services of Kent Bazemore (four years, $70 million).
Though the team extended its Eastern Conference-best playoff streak, it lost five fewer games as the pieces struggled to fit together.
Now the franchise faces another pivotal offseason as All-Star forward Paul Millsap enters free agency alongside veteran wing Thabo Sefolosha. Another key member of the Hawks 2016-17 rotation, Tim Hardaway Jr., is also an intriguing restricted free agent.
"For our franchise, I believe that this was a necessary and positive set of changes. I am fully committed to the Hawks organization and look forward to helping with the search process and eventually working with the incoming GM, Budenholzer said in a statement. Together with ownership, the incoming GM and front office staff, and our coaching staff, we will continue to work toward building a team that can achieve a high level of sustainable success."
Stay tuned for updates