Hawks receive 2018 first-round pick, Diamond Stone in 3-team trade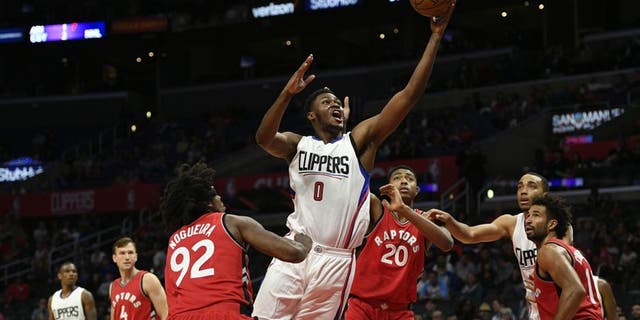 Travis Schlenk is wasting little time reshaping the Atlanta Hawks roster and restocking its portfolio of future assets.
Hours after news broke that Paul Millsap signed a three-year, $90 million contract with the Denver Nuggets the second All-Star frontcourt player to leave Atlanta via free agency in as many summers Schlenk and his front office found themselves in the middle of a three-team trade with the Nuggets and Los Angeles Clippers, serving in a facilitators role. The trade became official on Thursday evening after the NBA's free agency moratorium was lifted.
In order for the Clippers and Nuggets to complete a sign-and-trade to send forward Danilo Gallinari to Los Angeles, the Hawks were needed to make the money work. In return, Atlanta will receive a top-three protected first-round pick (Houston Rockets' 2018 topselection), young center Diamond Stone, veteran guard and former Hawks standout Jamal Crawford and cash considerations. The Hawks will also send the Wizards' 2019 second-round pick to the Nuggets.
As we continue to focus on maintaining flexibility and adding assets, this deal accomplished multiple goals and made a lot of sense for us, Schlenk said in a statement. First round picks have great value and Diamond is an intriguing, young player to add to our group.
Crawford, who played two seasons with the Hawks from 2009 to 2011, is not expected to play for his former team. The 37-year-old will likely reach a buyout agreement or be traded before the beginning of the season.
Stone, 20, was a second-round pick (40th overall) in the 2016 draft after playing college at Maryland. A former high-profile recruit, the 6-foot-11, 255-pound big man played in just seven games for the Clippers last season. Hes a flyer in the truest sense of the term, but Stone could find himself in the Hawks depleted frontcourt mix next season.
The crown jewel of this deal from Atlantas perspective will be the draft pick a top-three protected 2018 pick the Clippers received from Houston in the Chris Paul trade. Given the direction the 2017-18 team is trending, adding pieces for the future is the smart play even in the Eastern Conference. If the Houston experiment of James Harden and Chris Paul works, the Hawks will likely receive one of the final picks of the opening round next summer; if injuries or chemistry disrupt Houstons plans, Atlanta will be in business with amid-round selection.
Houstons 2018 pick will be added to Atlantas own first- and second-round selections next year as well as Minnesotas top-14 protected 2018 pick acquired in the Adriean Payne trade, and one likely to convey given the Timberwolves successful offseason Clevelands 2019 first-round pick (top-10 protected from the Kyle Korver deal) and Washingtons 2019 second-round pick.