Hawks desperate for wins to stay in West's top eight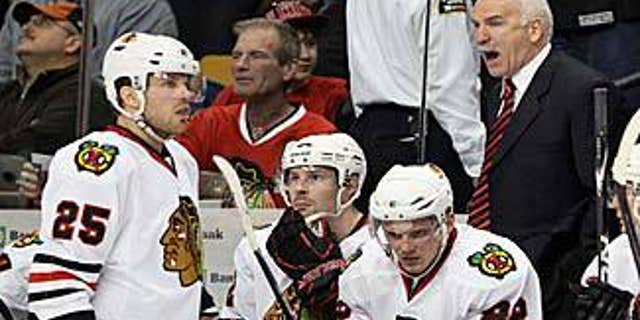 NEWYou can now listen to Fox News articles!
It's April 5, there are six days left in the regular season, the playoff races in each conference still are on fire and many games have added meaning with points at such a premium. As always, NHL.com is here to give you a Down the Stretch daily that will highlight what you need to know about the games that directly impact the playoff races.
Here is the installment for Tuesday, April 5:
CHICAGO (42-28-8, 92 points) at MONTREAL (42-30-7, 91 points)
Where they stand: Chicago is eighth in the Western Conference; Montreal is sixth in the Eastern Conference.
What's at stake: Chicago needs to win in order to inch closer to the playoff berth that has eluded it so far. The Blackhawks will move into seventh with a victory. Montreal will clinch a playoff berth with a win.
How it's going: The Blackhawks hold a one-point lead on Calgary and a three-point lead on Dallas in the playoff race. The Stars are in action Tuesday while the Flames, who only have two games remaining, don't play again until Wednesday. The Blackhawks are two days removed from a sad Sunday. They were blanked by Tampa Bay at home while the Flames and Stars both won. Chicago has four games left, including Tuesday's game. Dallas also has four games remaining, including Tuesday's game against Columbus.
The Canadiens are coming off a 3-1 win against New Jersey. It was only their second win in the last six games and they are 4-6-0 in their last 10. They will clinch a playoff berth with a win Tuesday. If not, the Habs still can clinch if Carolina loses to Detroit on Wednesday.
Upcoming: The Hawks come home to play division rival St. Louis on Wednesday before closing the season with what could be a make-or-break home-and-home set against Detroit, starting Friday (7:30 p.m. ET, VERSUS) at Joe Louis Arena. The Canadiens go to Ottawa on Thursday (7 p.m. ET, CBC) and finish the regular season Saturday at Toronto (7 p.m. ET, NHLN-US, CBC).
COLUMBUS (34-32-13, 81 points) at DALLAS (39-28-11, 89 points)
Where they stand: Columbus is 13th in the West; Dallas is 10th in the West
What's at stake: Dallas is three points out of a playoff spot and is in an obvious must-win, need-help situation. Dallas can move within a point of eighth Tuesday, but will have to win and hope the Blackhawks lose in regulation. If the opposite happens, the Stars will fall five points back with only three games left.
How it's going: The Stars got two-thirds of what they wanted this past Sunday -- they won and the Blackhawks lost, but the Flames won as well to stay two points ahead in ninth place. Dallas, though, only can focus on its win, which was crucial. It hadn't won since March 19, going 0-3-3 in the six-game stretch between victories. The Stars got a goal and 2 assists from captain Brenden Morrow as well as 2 goals from Mike Ribeiro to pull out the 4-3 win at Anaheim, salvaging their five-game road trip.
The Blue Jackets are winless in three straight and 2-5-4 in their last 11.
Upcoming: The Stars open a home-and-home at American Airlines Center against Colorado on Thursday. They go to Denver on Friday and hope to finish the regular season with a meaningful game in Minnesota on Sunday (5 p.m. ET, NHLN-US, NHLN-CA). Columbus finishes the season at Nashville and at home against Buffalo.
TAMPA BAY (44-24-11, 99 points) at BUFFALO (40-29-10, 90 points)
Where they stand: Tampa Bay is fifth in the East; Buffalo is eighth in the East
What's at stake: Buffalo can jump the Rangers, and potentially Montreal, with a win, and would at least leap the Rangers with an overtime or shootout loss. The Sabres also need one point to eliminate Toronto from playoff contention. Tampa Bay potentially can move into fourth place with a win, but would need Pittsburgh to lose to New Jersey. The Lightning still have an outside shot at winning the Southeast Division title, but needs to win and have the Capitals lose in regulation at Toronto to stay alive in that race.
How it's going: Jhonas Enroth has been filling Ryan Miller's goal crease quite nicely for the Sabres, who beat Carolina in overtime on Sunday and are 6-1-2 since in their last nine games. However, the Sabres need Miller back soon, but it won't happen Tuesday. Miller skated on his own Monday but has been ruled out of playing against the Lightning. Enroth likely will get his fourth straight start, and the Sabres have picked up five of a possible six points with him in net recently.
The Lightning have won five in a row to climb within a point of fourth place in the East. Vincent Lecavalier left Sunday's 2-0 win against Chicago after being cut near the eye by a high stick. The injury is not serious and Lecavalier is considered day-to-day. He has 12 points in his last 11 games. Martin St. Louis has 4 goals and 5 assists over a six-game point-scoring streak.
Upcoming: The Sabres host Philadelphia on Friday and close the regular season Saturday at Columbus. The Lightning host Florida on Friday and go to Carolina to finish the regular season Saturday.
WASHINGTON (46-22-11, 103 points) at TORONTO (37-32-10, 84 points)
Where they stand: Washington is second in the East; Toronto is 10th in the East
What's at stake: Washington can clinch the Southeast Division title with a win or a Tampa Bay regulation loss. The Capitals also will clinch if they get a point and the Lightning lose in regulation, overtime or a shootout. Toronto is facing elimination Tuesday; they only stay alive if it wins and Tampa Bay beats Buffalo in regulation.
How it's going: The Capitals beat the Sabres 5-4 Saturday on Alex Ovechkin's overtime winner. However, according to coach Bruce Boudreau, the game too closely resembled how the Caps played last season. It was more of a run-and-gun, up-and-down, trading chances-type of game and that's not how Boudreau wants his team to play in the playoffs. The Caps are 16-3-1 in their last 20 games, but they won't have Alexander Semin, who did not make the trip.
The Maple Leafs have made a strong run to stay alive this long, but now it'll take a lot for them to get into the playoffs. Even if the Leafs are eliminated Tuesday, they at least have shown the growth in the second half of the season that GM Brian Burke and coach Ron Wilson have been promising. Phil Kessel has been excellent since he was the final pick in the All-Star Fantasy Draft and James Reimer has proven the Leafs might have a promising franchise goalie on their hands.
Upcoming: The Capitals close the regular season with two games against Florida -- at Verizon Center on Wednesday and in Sunrise at the BankAtlantic Center on Saturday. The Maple Leafs play in New Jersey on Wednesday and finish the season at home against Montreal on Saturday (7 p.m. ET, NHLN-US, CBC).
NEW JERSEY (36-37-5, 77 points) at PITTSBURGH (46-25-8, 100 points)
Where they stand: New Jersey is 12th in the East; Pittsburgh is fourth in the East
What's at stake: The Penguins are trying to hold off the streaking Lightning to preserve home-ice advantage in the first round. Despite being three points back, they also haven't given up hope of catching Philadelphia for first in the Atlantic Division and perhaps the Eastern Conference.
How it's going: The Penguins snapped their two-game losing streak with a 4-2 win against Florida on Saturday. Jordan Staal had 3 assists in the win against the Panthers to snap a five-game streak without a point. Forward Arron Asham returned to practice Monday after missing Saturday's game with a lower-body injury. The Penguins still have no timetable on a return for Sidney Crosby. He skated prior to the team's full workout Monday.
The Devils lost to Montreal 3-1 on Saturday in Zach Parise's first game since injuring his knee Oct. 30. The Devils won their prior two games.
Upcoming: The Penguins finish the regular season on the road, with games Friday against the Islanders and Sunday against the Thrashers. The Devils host Toronto on Wednesday (7 p.m. ET, TSN), play the Rangers on Saturday and are home Sunday to close the season against Boston.
PHILADELPHIA (46-22-11, 103 points) at OTTAWA (30-39-10, 70 points)
Where they stand: Philadelphia is first in the East; Ottawa is 14th in the East
What's at stake: Philadelphia will clinch the Atlantic Division title with a win of any kind and a Pittsburgh loss of any kind. The Flyers also can clinch if they get one point and the Penguins lose to New Jersey in regulation. The Flyers will remain in first place in the Eastern Conference with a win of any kind or a Washington regulation loss. If the Flyers win in a shootout and Washington wins in regulation, the teams would be tied with 105 points, 43 non-shootout wins and six points earned against each other. Therefore, the goal differential tiebreaker would have to go into effect; the Flyers enter Tuesday's action with a 37-24 edge.
How it's going: The Flyers are in a funk again. They're winless in their last three games (0-2-1) and have just seven wins in their last 19 games (7-7-5). They're 0-2-4 in their last six home games, so maybe a little dose of the road will help them; they've won three of their last four away from home. Already without All-Star defenseman Chris Pronger until the playoffs, they'll be without Danny Briere and Blair Betts for this one due to lower-body injuries.
The Senators are 1-2-1 in their last four games.
Upcoming: The Flyers are in Buffalo on Friday and finish the regular season at home Saturday against the Islanders. The Senators are home against Montreal on Thursday (7 p.m. ET, CBC) and finish Saturday in Boston (1 p.m. ET, CBC).
ATLANTA (33-33-12, 78 points) at NASHVILLE (42-26-11, 95 points)
Where they stand: Atlanta is 11th in the East; Nashville is sixth in the West
What's at stake: Nashville will clinch a playoff berth if it wins and Dallas loses to Columbus in any way. The Predators also would clinch a playoff berth if they lose in overtime or a shootout and the Stars lose in regulation.
How it's going: The Predators have one win in their last three games since their six-game win streak ended. However, they've gained points in each of the last two games with a win against Colorado and an overtime loss to Detroit. Martin Erat has goals in each of the last two games. Mike Fisher has 3 goals and 3 assists in the last four games. Steve Sullivan (sports hernia surgery) and Cal O'Reilly (broken right fibula) were at practice Monday and could be ready to go in the playoffs.
The Thrashers are coming off a 3-2 loss to Boston after an impressive 1-0 win in Philadelphia.
Upcoming: The Predators will be off until Friday, when the Blue Jackets come to town. They finish the regular season Saturday in St. Louis. The Thrashers play at the Rangers on Thursday (7 p.m. ET, VERSUS) and come home to play Carolina on Friday and Pittsburgh on Sunday.
Follow Dan Rosen on Twitter at: @drosennhl