Hard-fought win puts Kyle Larson in championship-caliber position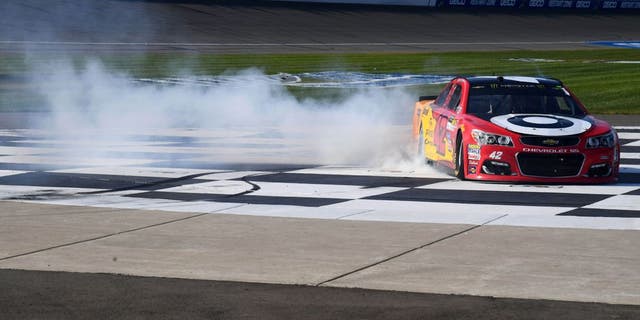 NEWYou can now listen to Fox News articles!
BROOKLYN, Mich. -- As the old saying goes, in order to be the best, you have to beat the best.
And according to Kyle Larson, he did just that after earning his second victory of the 2017 Monster Energy Series season in Sunday's FireKeepers Casino 400 at Michigan International Speedway.
Larson started from the pole and led a race-high 96 of 200 laps en route to his second career win at the two-mile oval.
Despite being the one of the heavy favorites, you're probably wondering how in the world Larson didn't feel like he was the driver to beat throughout the race.
Although Larson spent much of his time in the lead, it was Martin Truex Jr. who swept the first two stages and earned a pair of playoff points.
"The No. 78 was by far the class of the field, I thought," Larson said. "I know I led a lot of laps. Seemed like whenever he wanted to get the lead, he hit a nitro button and would cruise up to the lead, then check out. He was the class of the field."
On top of that, Larson didn't even think he was worthy of being the second-best car.
"I thought the No. 18 (Kyle Busch) was next best," Larson added. "The No. 20 (Matt Kenseth) was better than I was on the long run. I thought we were probably a third or fourthplace car. For not having the dominant car, to do everything right to get a win today, was special."
Michigan is home to Larson's first career Cup victory last August, beating Chase Elliott for the milestone win.
The two young drivers had a dj vu moment, as Larson once again beat out Elliott on Sunday.
But parking the No. 42 Chip Ganassi Racing Chevrolet in Victory Lane wasn't easy to come by. Using some impressive skills, Larson passed Busch for the lead on the restart after a caution on Lap 21, while also holding off Elliott on a restart with 10 laps remaining.
"You always kind of have in the back of your mind all the races you lost on restarts," Larson said. "I also got my first win here on a late restart. I was pretty confident going into it, especially lined up on the front row with Chase again. I know we were both going to have a better restart than we had last year, neither of us spin our tires. I was able to get good pushes, get the side draft going at the right time to pull my momentum into the corner."
You'd think the breakout of cautions late in the race would have had Larson sweating, but for the most part, he remained calm, cool and collected.
"Every time I get to the lead, there's always cautions," Larson said. "I wasn't really that nervous. I figured there would be a caution as soon as I got the lead the first time.
"Then the last restart there when I got clear to the lead, I had some butterflies," he added. "I was just trying to be smooth, hit my marks, not make mistakes, not let Chase get close to me. This place is pretty hard to pass when you get out front on a restart, so I wasn't too concerned."
With two race wins under his belt, Larson is now aiming to earn as many playoff points as possible. And that's something Larson pays close attention to, especially since Truex currently has 20 bonus points racked up compared to his 13 points.
"I pay attention to how far back I am of Martin or how far ahead of him I am," Larson said. "We had a rough Coke 600 and lost a lot of points. We've been able to gain some back and take over the points lead. That's a big goal of mine, to be the points leader at the end of the regular season."